Completion of First Term Calligraphy Training Class
With Students' ''Hui Chun"to Herald in The New Year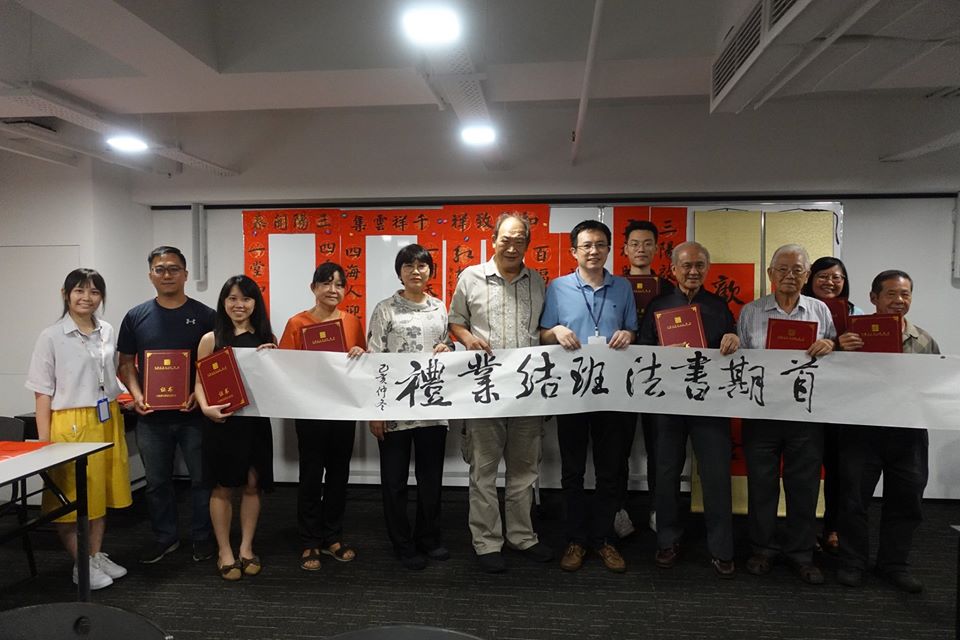 "Time lapses swiftly like a white pony's fleeting shadow flashing across a crevice"
The first 3-month "ink-rhymed calligraphy class" at the China Cultural Centre in Kuala Lumpur (CCCKL) was officially completed on 26 December. China Cultural Centre meticulously prepared for this occasion with each student being awarded a certificate of completion of the calligraphy class. Some outstanding students also received a special certificate of honor and related awards.
During the training course, the students were fortunate enough to be taught by renowned Malaysian calligraphers Mr Wong Ho and Ms Tan Guat Bee. Calligraphy skills of Advanced Class students were further enhanced in terms of sophistication and maturity. Starting from scratch, Beginner Class students developed a basic grasp of the structures of calligraphy writing, sitting poses, brush handling and application techniques, writing methods and Chinese traditional art.
In the evening, the students flocked to show their learning outcomes through a display of "hui chun" (meaning: calligraphy writing in praise of the onset of Spring). Instructor Wong Ho inked two sets of couplets on scene to welcome the traditional Chinese New Year, namely "The warmth cloaks the opportune moderate snowfall, the cheers accompany the ritzy lanterns" and "The swallow snips open the prelude to spring, the peach blossoms illuminate the guest's mood".
The director of the China Cultural Centre, Messrs. Zhang Jiexin remarked that calligraphy is typical of traditional Chinese cultural traditions. Nowadays, with accelerated life pace and rapid development of science and technology, the propagation and promotion of calligraphy has been fraught with difficulties.
As the students were keen enthusiasts of calligraphy art and inheritors of Chinese culture, China Cultural Centre would offer more training courses and provide more opportunities to learn and understand Chinese traditional culture and arts in the future,
The students' representative Dato Seri Kee Yong Wee, a calligraphy practitioner for 20 years opined that the said calligraphy classes had helped promote the art of calligraphy in Malaysia and China Cultural Centre's excellent geographical location and learning environment possessed great advantages and attractiveness. He also hoped thatChina Cultural Centre would conduct more calligraphy lectures and the likes in the future.
Guo Shibo, the student who won the model student award of this term of "Ink-rhymed Calligraphy Class" intimated that through three months of persistent learning, he deeply realized the breadth and depth of Chinese calligraphy. Hence he was very happy to see his modest progress made in his calligraphic writing. At the same time he also hoped that the China Cultural Centre could hold more similar courses in the future.