Chinese Language Trial Class & Cultural Experience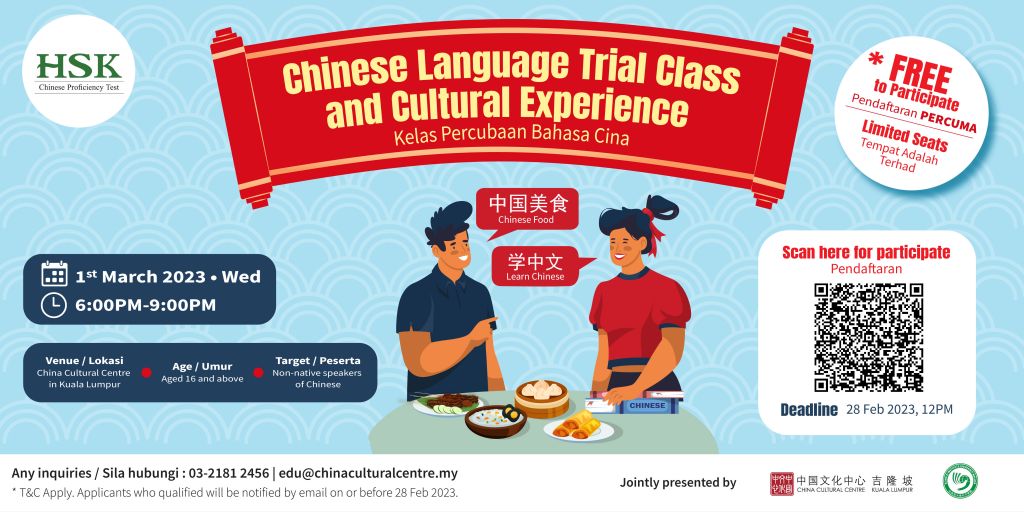 Have you ever wanted to learn a new language but didn't know where to start? Are you a foodie looking to explore Chinese cultures and cuisines? If you answered yes to either of these questions, then our Chinese Cultural Experience and Language Trial Class with a topic of a journey of tastes and texture is perfect for you!
Our trial class is designed to be interactive and engaging, with plenty of opportunities to practice your Chinese skills in real-life situations. Through a combination of classroom teaching and interactive practice, you will learn how to make a simple food order conversation in Chinese, learn common expressions, and even recognize simple quantifier grammar.
So, if you are a food lover eager to learn Chinese, or you want to experience Chinese lessons through food culture, sign up our Chinese language trial class and get ready for a delicious and rewarding learning experience!
Trial Class Info:
Date: 1st March 2023(Wed)
Time:6:00PM-9:00 PM
Venue: China Cultural Centre in Kuala Lumpur
Age: Aged 16 and above
Target: Non-native speakers of Chinese
Deadline: 28 Feb 2023, 12PM
FREE to PARTICIPATE!!
Limited Seats ONLY! First come first basis.
Register Link: