2022 World Ocean Day: "Hainan: All the Sun, All the Fun" Online Travel Courses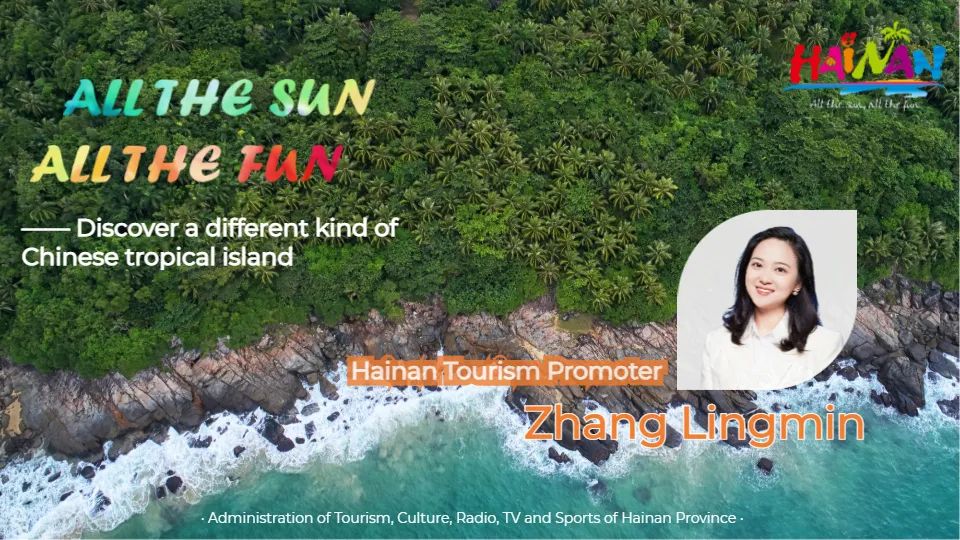 June 8, 2022 marks the 14th "World Oceans Day" and the 15th "China Ocean Day". In the hope that we will work together to protect the blue planet we rely on for our survival, "China Travel Course" makes a special recommendation for China's beautiful tropical island, Hainan.
Hainan has an abundance of natural ecological resources with 68 bays, 81 peaks of over one thousand meters, 9 national forest parks, and more than 70 natural hot springs. Since May 2018, Hainan has provided visa-free entry for citizens of 59 countries, with a maximum stay duration of 30 days. The island has 653 km of round-island high-speed rail, connecting 12 coastal cities and counties and making traveling around the island more convenient. The railway is only 300 meters from the coast at closest. Hainan is not only known for its natural scenery and ecological resources, but it is an island of culture as well, with the "Double Three" Festival of Li & Miao ethnic groups, world-class Round Hainan Regatta, and high-profile golf tours.
Here in Hainan, you can enjoy the sun and beaches, the allure of the coast, the marine life by diving underwater, the adventures in a rainforest, the shopping spree at the duty-free complex, the healing bath in a hot spring resort, and a fun game of golf at an obsidian course. The vast amount of ecological resources, culture, history, folk customs, modern technology, and fashion will fulfill your needs for family vacations, workouts, wellness, cultural experience, and many more.
We sincerely invite you and your family to visit Hainan after the pandemic and find the joy of your life here.
For more information, please visit "China Travel Course" Official Website.
Recommended Courses
Overview Hainan
Hainan province is the southernmost province of China with a year-round mild climate, plenty of sunshine, clean air, and clean water. As a Chinese coastal province in the tropical region, with 1944 km of coastline, 68 breathtaking bays, 81 peaks over 1000 meters tall, 9 national parks, more than 70 hot springs, lush tropical forests,endless oceanic resources, plenty of beach resorts, and many, many other natural scenic spots to behold, Hainan takes the spotlight as a world-class travel destination and a vacation paradise.
The natural and cultural resources in Hainan can satisfy the needs of any vacation-goer; whether it's for a family getaway, a fitness training, a rehabilitation session, or a trip to see folk customs. The city of Sanya is a world-renowned tropical getaway. You can find beaches and seaside resorts in places such as Wuzhizhou Island, Yalong Bay, and Dadonghai Bay, where you can escape the cold and enjoy sunlight, seafood, and palm trees; the right place for wellness and relaxation at Bo'ao Lecheng International Medical Tourism Pilot Zone and Qixianling Hot Spring National Forest Park; the traditional celebrations of Li and Miao ethnic groups, "Double Third" Festival; sporting events like Round Hainan Regatta and high-profile golf competitions…Countless cultural events and international competitions are ready for you to experience.
Clear sky, vast ocean, warm beaches, lush forests, great mountains, grand rivers, your perfect getaway…they await your visit in Hainan!
如何获得证书?
学员注册为"旅游从业者",学完20节核心课和5节选修课,并通过随堂测试后,将获得吉隆坡中国文化中心颁发的"中国旅游专家"证书。获得证书的学员将有机会受邀参与吉隆坡中国文化中心举办的各类活动和"访华之旅"计划。
中国博物馆奇妙之旅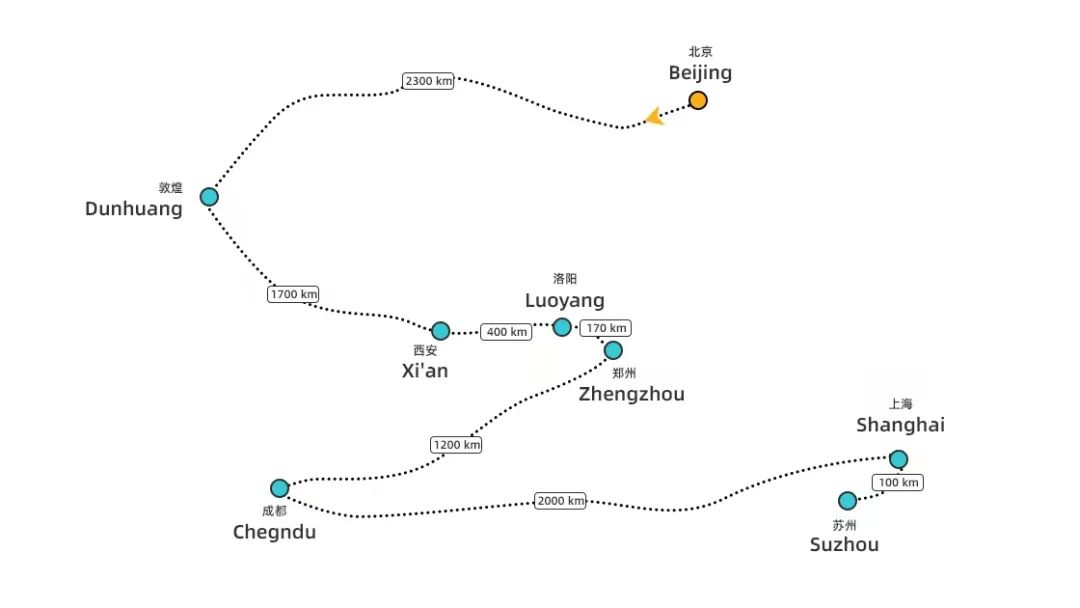 第1-3天 北京
推荐入境口岸城市
第4-5天 敦煌
北京-敦煌距离:约2300公里,推荐交通方式:飞机约3小时
第6-7天 西安
敦煌-西安距离:约1700公里,推荐交通方式:飞机约2.5小时
第8-9天 洛阳
西安-洛阳距离:约400公里,推荐交通方式:高铁约1.5小时
第10天 郑州
洛阳-郑州距离:约170公里,推荐交通方式:高铁约30分钟
第11-12天 成都
郑州-成都距离:约1200公里,推荐交通方式:飞机约2小时
第13-15天 上海,推荐出境口岸城市
成都-上海距离:约2000公里,推荐交通方式:飞机约3小时
苏州一日游 距离:单程约100公里,推荐交通方式:汽车单程约1小时40分钟/高铁约30分钟
世界上规模最大、保存最完整的木结构宫殿建筑群
故宫博物院建立在明清两朝(明朝:1368-1644年,清朝:1636-1912年)皇宫——紫禁城的基础上,有600多年的历史,是世界上规模最大、保存最完整的木结构宫殿建筑群,1987年被联合国教科文组织列为世界文化遗产。走进故宫博物院,您沿中轴线前行,依次可以看到太和殿、中和殿、保和殿三大殿,这是国家举行大典礼的地方,继续前行可以看到皇帝和皇后居住的正宫,其后为御花园。
推荐您使用"全景故宫"沉浸式地体验故宫,您可以走进各大殿,发现中国古典建筑的细节之美,也可以不受季节限制,领略故宫"春夏秋冬"四时变换的美景。
点击官网了解更多。
中华文明发展史的典藏宝库
如果您想短时间一览中国文明史的发展脉络,位于天安门广场东侧的中国国家博物馆是您的最佳选择。来这里必看的是位于地下一层的"古代中国"基本陈列,它以王朝更替为主要脉络,较为全面地展示了古代中国不同历史时期在政治、经济、文化、社会生活以及中外交流等方面的发展状况,时间跨度从远古时期到明清时期(明朝:1368-1644年,清朝:1636-1912年),在这个展览中能看到以下珍贵文物:
玉龙(公元前 4700–2900),由墨绿色的玉雕琢而成,琢磨精细,是中国已发现的时代较早的龙的形象之一。
"后母戊"青铜方鼎(约公元前16世纪—前11世纪),鼎重832.84千克,是目前已知中国古代最重的青铜器,代表了商代青铜冶铸工艺的最高水平。
四羊青铜方尊(约公元前14世纪—前11世纪),铸造工艺精湛,是中国古代青铜文化中的珍品。
击鼓说唱陶俑(公元25年—220年),生动再现了一位正在说唱的俳优形象,神态诙谐,动作夸张。
三彩釉陶载乐骆驼(公元723年),是体现唐三彩(唐代:公元618-907年)造型艺术的精品。
此外,国博还有中国古代青铜器、佛造像、玉器、瓷器等专题展览,您可以全面的了解中国古代各方面取得的文明成就。
孝靖皇后凤冠(公元1573年—1620年)