A moment to Remember in 2021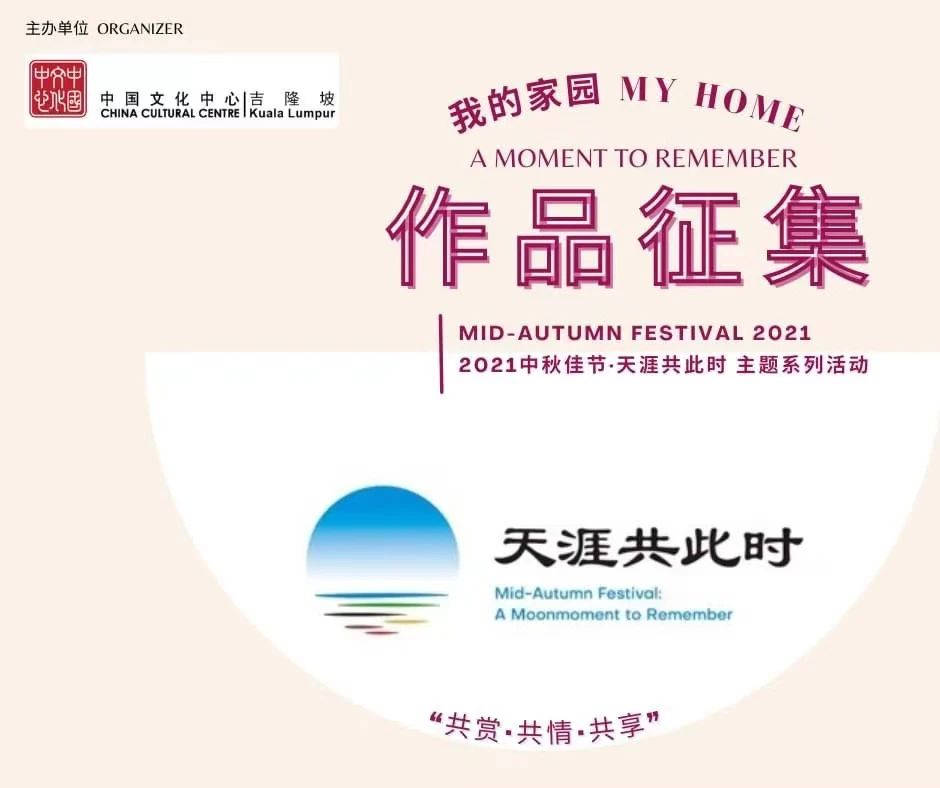 Mid-Autumn Festival in usually expresses a mutual sense of good wish and happy reunion. A musical album will be planned hereafter to make by the photography and short video works collected from the overseas friends under the theme of "My Home".
The outstanding works stand a chance to showcase in musical album and presented globally in the Mid-Autumn Festival unified brand activity of "A Moment to Remember" in 2021.
All participants will receive an e-certificate of participation.
I. Theme
II. Content
OPEN TO ALL GENRES
FINE ART • VISUAL STORYTELLING • FAMILY LIFE • SCHOOL TIME • FESTIVAL FUN • LANDSCAPE • CRAFTS MAKING • HAPPY TIME
III. Category
(a) PHOTOGRAPHY
(b) VIDEO WORKS
(Remarks: Participant can participate and submit both photography or short video at the same time, but max 3 works of submission is allowed).
I

V. Format
(a) PHOTOGRAPHY
Each work must be in JPEG format.
The file size is not less than 4MB.
(b) VIDEO WORKS
Only the videos in rmvb /avi /mp4 format will be accepted.
The file size shall not be less than the standard definition level (720*576).
Each short video shall not exceed 3 minutes (including the opening and closing subtitles).
V.QUALITY of Works
High-resolution mobile phones or professional equipment is appreciated to use to ensure the clarity of photography and video works. No watermark or commercial brand LOGO is allowed to present on the works.
VI. How to Submit
Brief introduction or description of the submitted work is kindly needed.

The submitted works must be labeled with title, author, nationality, age and contact information (mobile and email address).

Submission Deadline: 13 Aug 2021 (Fri), 12PM.

Please submit the works and details above via email to [email protected]
T&Cs
1. The contributor must have the absolute copyright of the submitted work or the right to exhibit the work.
2. The submitted works shall be original and shall not infringe upon the third party's copyright, right of portrait, right of reputation, right of privacy, and right of trademark and other lawful rights and interests. If the submitted work includes an influential figure, it shall be approved by a third party or a declaration shall be issued if necessary.
3. In order to present the harmonious and smooth overall effect of the album, the organizer has the right to select the suitable works according to the theme of the event for display. Works not included in the list will not be returned, please keep your own copy.
4. The organizers shall have the right to distribute the submitted works in a non-profit way, or otherwise develop and use the rights and licenses (in whole or in part) granted to the organizers and their affiliates in the platforms or activities they cooperate with.
Information

Deadline for submission is 13 Aug 2021 (Fri), 12PM.

For further information:
[email protected]
Cultural and Tourism Institutions Overseas
China Cultural Centre in Kuala Lumpur