Let's Celebrate this 2023 Happy Chinese New Year Together!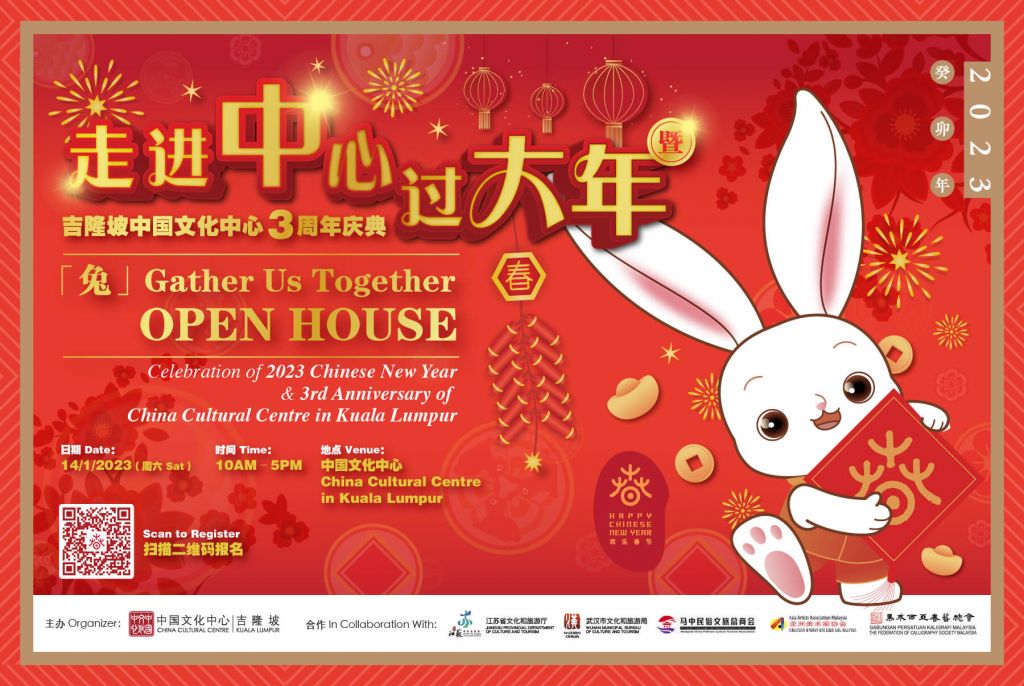 The Chinese New Year Festival is the grandest traditional fete of the Chinese people, and a meaningful festival for family reunion and pleasure sharing. A series event of the Celebration of "Happy Chinese New Year 2023" will be held at China Cultural Centre in Kuala Lumpur on 14th Jan, 2023 (Sat) from 10 AM – 5 PM. The event is free and open to the public!
Event Details:
Date: 14th January 2023 (Saturday)
Time: 10 AM – 5 PM
Venue: China Cultural Centre in Kuala Lumpur
Activity: 2023 Rabbit Year Fengshui Perspective, Teochew Puppet Opera, 兔Gether Chinese New Year Concert, Cultural Experience Booths (CNY Printmaking, Chinese Ink Painting, China Folk Games: Chinese Pellet Drums (Bolang Gu) Workshop, Chinese Paper Cutting, Spring Festival Couplets), China-Malaysia Traditional Snack (Ding Ding Candy, Cotton Candy, Yao Yao Ic, CNY Snacks)
Limited seats, RSVP now https://forms.gle/Qs5noLATiJws1iQq6 First come first serve basis.
We look forward to welcoming you!