Let's Celebrate this 2022 Dragon Boat Festival Together!
The Dragon Boat Festival is one of the most important traditional festivals in China. Apart from racing dragon boats and eating zongzi (sticky rice dumplings), there are many other interesting traditions and activities on the day of the Dragon Boat Festival or Duanwu Jie.
China Cultural Centre in Kuala Lumpur cordially invite you to celebrate this festivity and get-together during Dragon Boat Festival 2022! Join us for series of cultural events offline on June, 4th (Saturday) from 10AM – 5PM! The event is free and open to the public!
Event Details:
Date: 4th June 2022 (Saturday)
Time: 10AM – 5PM
Venue: China Cultural Centre in Kuala Lumpur
Activity: Combination of Traditional Chinese and Western Instruments Music Festival, Traditional Chinese Medicine Seminar Talk, Free TCM services, dough doll experience, "The Natural Beauty of Xinjiang" exhibition, nature scent of Agarwood experience , realgar wine (xionghuang wine) cultural experience, free door gift, zongzi, lucky draw and more!
Limited seats, RSVP now https://bit.ly/3MGgGIU. First come first serve basis.
We look forward to welcoming you!
Dragon Boat Festival & Traditional Chinese Medicine Seminar
Since ancient times, the traditional customs of the Dragon Boat Festival have been closely related to the health consciousness of people.
On the day of the event, the organizers will prepare a series of Chinese medical cultural activities related to Dragon Boat Festival, including two seminars on TCM Culture and Healthcare, which will be speak by Mr. Wang Chaoyang from UTAR. The speaker will bring people to understand the traditional Chinese medicine knowledge, making medicine bags, demonstration of traditional health exercises, etc.
At the same time, two TCM doctors, Lim Chih-Boon and Chia Weng Hwa, will bring free TCM medical consultations and health consultations.
Dragon Boat Festival & TCM Cultural Seminar
Time:10AM – 12PM
Dragon Boat Festival & TCM Healthcare Seminar
Time:1PM – 3PM
Dragon Boat Festival Special Musical Show
How could there be without beautiful music at this beautiful Dragon Boat Festival?
Five outstanding Malaysian young musicians will be invited to perform a concert featuring the Dragon Boat Festival.
The concert will feature Chinese Orchestra and Western Musical Instruments, combining classical music with modern music. China Cultural Centre in Kuala Lumpur cordially invites you to join us and to have an unprecedented auditory feast together!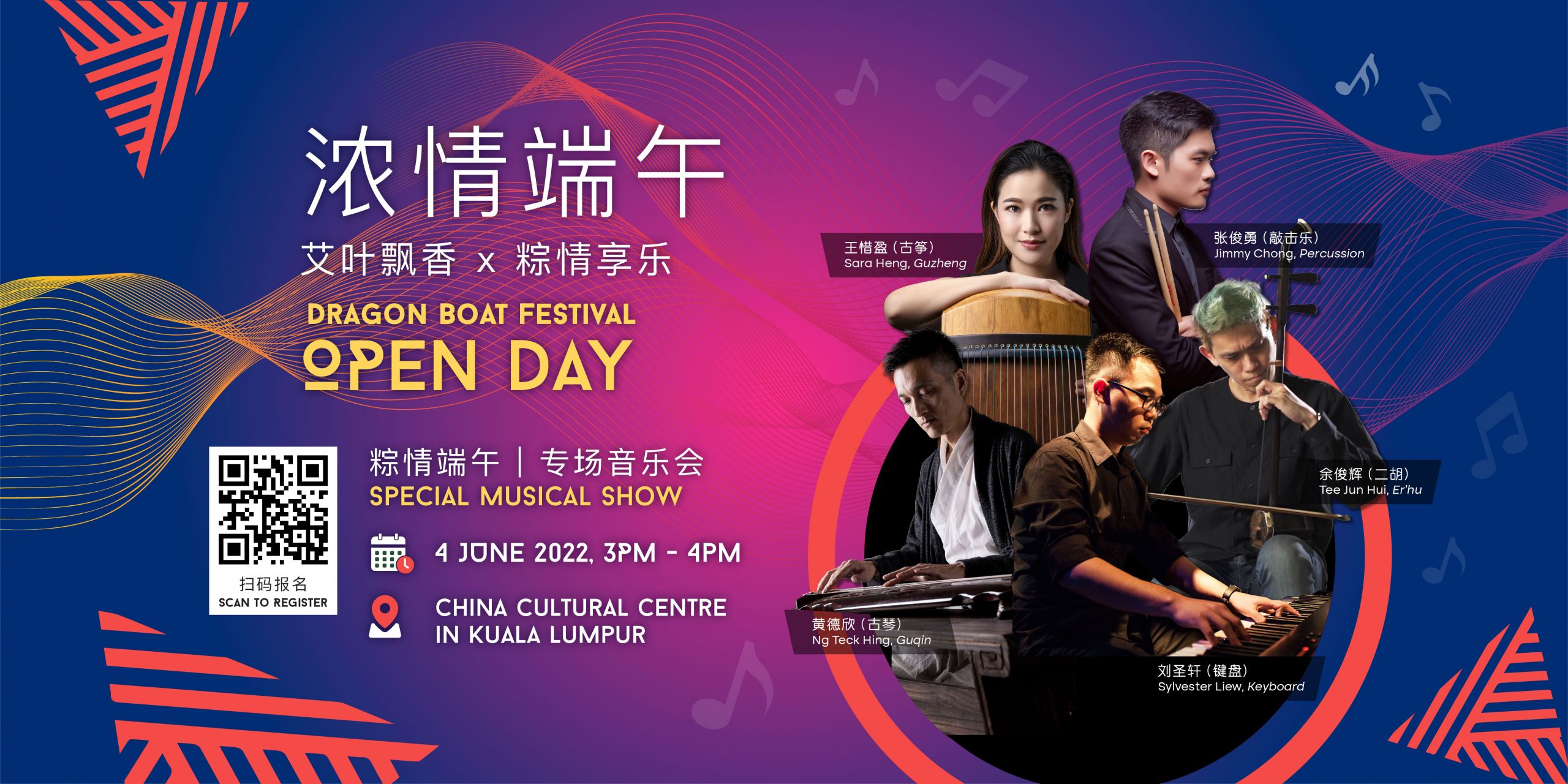 PERFORMER:
王惜盈 Sara Heng(古筝 Guzheng)
Guzheng artist Sara Heng holds a Masters of Music degree in Guzheng Performance from the prestigious Central Conservatory of Music (CCOM) in Beijing under the tutelage of renowned guzheng virtuoso Professor Ji Wei and Professor Yuan Sha. She is also the founder of The Guzheng Academy and the deputy president of Malaysia Guzheng Association.
黄德欣 Ng Teck Hing (古琴 Guqin)
Ng Teck Hing began his Guqin study from Guqin performer, Master Gong Yi, The founder of The Dalv Qin Academy and Budong Academy. He serve as honorary committee member of the Professional Committee of the China Nationalities Orchestra Society (Guqin Society of China), member of Shanghai Guqin Research Association, Honorary President of Shantou Guqin Society, Honorary Advisor of Malacca Guqin art Society, Honorary Advisor of Malaysia Guzheng Association.
余俊辉 Tee Jun Hui (二胡 Er'hu)
Tee Jun Hui graduated from the China Conservatory of Music with a major in performance on erhu under the instruction of the famed erhu master Song Fei. Tee Jun Hui had become a soloist for three consecutive years at the Gong Xian Qing Concert.
Tee Jun Hui is the winner of the First National Youth Chinese Music Strings Section Solo Competition in South Malaysia Region Level and second runner up in the National Level, the recipient of the Outstanding Performance Award at Zhong Lu Cup in China under the professional erhu category also the winner at the first Yue Lang Cup.
张俊勇Jimmy Chong(敲击乐 Percussion)
Jimmy graduated from ICOM, majoring in percussion, music composition & arrangement, and music production. He is an active musician in many local indie music groups and a frequent in local performing arts circle. His prefered music genres range from avant garde, modern, pop, rock, jazz, electronic, and experimental music. Jimmy has performed in countless commercial performances, music concerts, and cultural music events, touring countries such as France, USA, Macau, Hong Kong, Singapore, Maldives, Turkmenistan, India, and China.
刘圣轩 Sylvester Liew(键盘 Keyboard)
Sylvester graduated from UCSI University, Bachelor degree holder of Contemporary Music. He is an international keyboardist who has more than 19 years of performance experience and has been involved in more than 1000 events and concerts. Svlvester has extensive experience working with local and international artists such as Selina Gan, Pianoman Su Yang, Tony Sun, WaWa Jin Zhi Juan and more.