2022 China Cultural and Natural Heritage Day

Every year's second Saturday in June is China's Cultural and Natural Heritage Day, and this year's theme of celebration is "Connecting modern life and emitting new lustre". Intangible cultural heritage embodies the continuous development of Chinese civilization, carries the Chinese people's yearning for an even better life, and radiates everlasting vitality and creativity through generations, bringing aesthetic and recreational fun to our lives today. Up to now, China has 42 remarkable elements inscribed on the list of UNESCO Intangible Cultural Heritage,whose quantities are ranked the first in the world.
Upon the coming of the Cultural and Natural Heritage Day 2022, China Travel Course is launching a newly made video clip promoting Beijing's intangible cultural heritage. Our host Bora, a tourism expert living in Beijing for 11 years, will take us to experience the fascinating local cultural heritage in four areas: Tai Ji Quan (Tai Chi), Dough Sculpture, Traditional Chinese Medicine, and Cloisonné.
With a history of more than 3,000 years as an urban settlement, including 800 years of being the capital, Beijing is a city abundant in intangible cultural heritage resources. In this video, Bora will begin the day tour from the early morning Tai Ji Quan (Tai Chi) practice in the Temple of Earth Park to feel the balance of 'yin' and 'yang', and learn about the unity of humanity and nature in Chinese philosophy. Next, he'll walk into Tongrentang to learn about Traditional Chinese Medicine and receive some traditional treatments. Bora will also take a stroll in hutongs to meet a master of dough sculpture and try to discover the magic of this traditional Chinese handicraft. His final stop will be the Beijing Enamel Factory, a place where the craftsmen will show us the exquisite art of cloisonné. The production process of cloisonné is an icon of traditional Chinese craftsmanship, a combination of traditional techniques of bronze and porcelain firing and fine touches of traditional painting and sculpture.
For more videos and knowledge about China's culture and tourism, check out the China Travel Course official website.
"你好,屈原!"湖北秭归端午全球行海报
国际在线作为中央重点新闻网站,通过44个语种以及广客闽潮4种方言对全球进行传播,是中国使用语种最多的国际化新媒体平台。2022年端午节前后,国际在线将通过英语、日语、韩语、意大利语等多语种平台对秭归端午节庆活动进行报道。国际在线多语种网站,中央广播电视总台多语种的Facebook账号等社交平台,以及中国驻悉尼、东京和首尔旅游办事处、吉隆坡中国文化中心等外事单位的海外自媒体账号将进行直播、图文、视频等报道。
"五月五,是端阳;门插艾,香满堂;吃粽子,撒白糖……"端午,是中国重要的传统节日之一,也是中国首个入选世界非遗的节日,被联合国教科文组织列入《人类非物质文化遗产代表作名录》。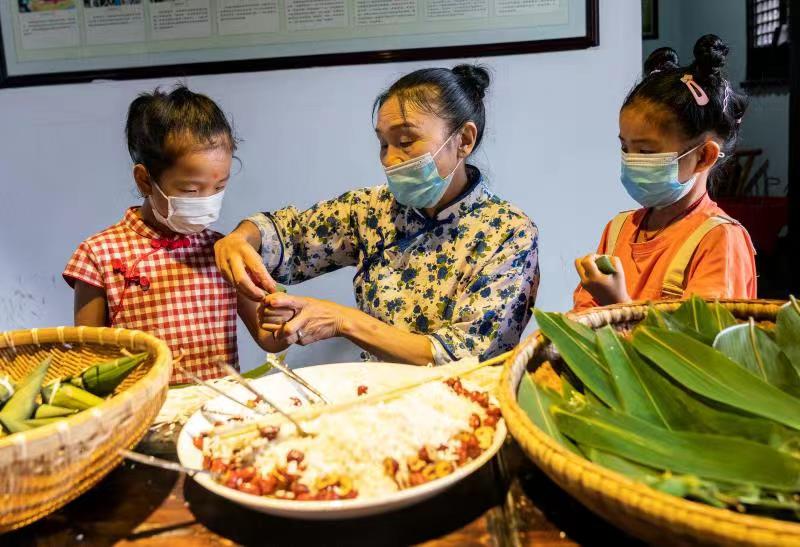 端午习俗——包粽子 供图 湖北省文旅厅
如今,起源于中国的端午文化已在世界多个国家流传。在中国农历五月初五,韩国、日本、新加坡、越南等许多国家的民众都会举办各式各样的庆祝活动。在屈原故里——湖北省秭归县,每年举办的端午节庆活动分外隆重。在秭归,每年五月要过三个"端午",农历五月初五是"头端午";五月十五是"大端午";五月二十五是"末端午"。屈原的爱国精神和辉煌辞赋,光耀大地,千古流传。为纪念屈原演变而来的"吃粽子"和"赛龙舟"等传统习俗,也成为这个节日的"标配"。

秭归端午,龙舟竞渡 供图 湖北省文旅厅
2022年端午节,让我们一起相约"云"端,来到湖北秭归,拜谒伟大爱国诗人屈原,于屈原古祠里吟一曲《离骚》,品味楚辞的浪漫情怀;身临三峡大坝右岸,饱览"巫山截断云雨,高峡出平湖"的壮丽画卷;深入寻常巷陌,感受古老的峡江民俗风情。