Buddhism Qing Ming Cultural Talk 2023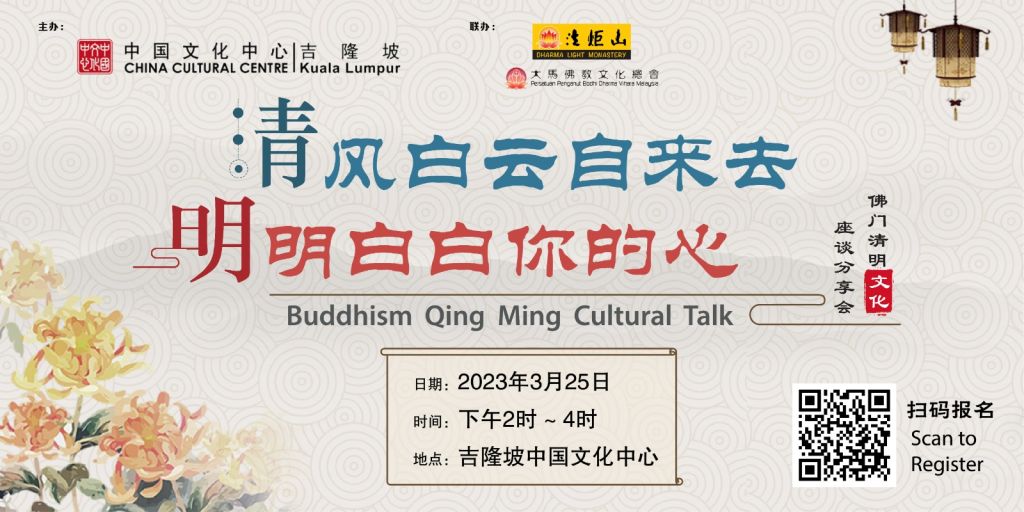 QingMing Festival is an important festival in Chinese tradition. Qing Ming festival offering sacrifies, remembering ancestors, and promoting filial piety. Qing Ming Festival is also a festival that the Malaysian Chinese attach great importance to. People will take advantage of the festival to return hometown to sweep the tombs and pass on the spirit of filial piety.
In this ecology of nature, the coming and going of the breeze and white clouds are so natural and impermanent, and so is human life. The memory of the ancestors by the younger generation reflects life and cultural temperament of the nation, and they know how to think of the source when drinking water.
The "Buddhism Qing Ming Cultural Talk", hosted by China Cultural Centre in Kuala Lumpur and co-hosted by Dharma Light Monastery and Persatuan Penganut Bodhi Dharma Vihara Malaysia, will be held at CCCKL from 2PM – 4PM on March 25th (Saturday). The speakers of this cultural talk are Rev. Chuan Dong (Lecturer of Dharma Buddhist University, Dean of Dharma Sukha Buddhist Institute) and Rev. Chuan Neng (Lecturer of Dharma Buddhist University). In addition to the cultural talk, the Master will also hold a blessing ceremony for the guests, and some Buddhist cultural artworks will be displayed on the spot.
This event is FREE ADMISSION! Let's learn about Qing Ming and Buddhist culture together !