Feel the charm of summer travel in China online
"Popular China Summer Destinations" Voting Campaign is launched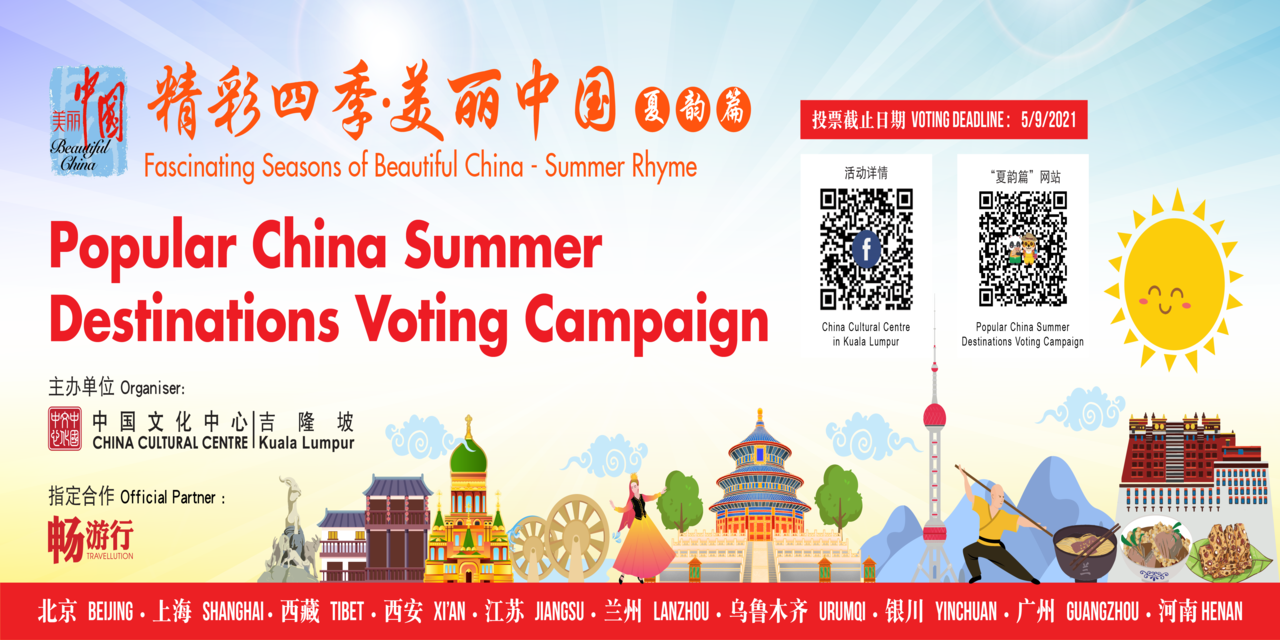 In April 2021, the China Cultural Centre in Kuala Lumpur started its year-long campaign "Fascinating Seasons of Beautiful China". Following the "Spring Time in China" Photo & Story Contest in May, the summer rhyme campaign which showcases the charms of summer in China is launched today! Summer in China is not only about the beautiful natural scenery, but also about the unique and long-standing history and culture of China, and the rich and varied cuisine. At the same time, the organiser has also specially planned halal tour routes and attractions that allowing everyone to experience the clear water, blue sky and lush greenery, wandering in the most fascinating scenery of China's summer on the internet.
The organiser has selected eleven of the best summer destinations from a wide range of attractions, including Beijing – the ancient and modern capital of China, Shanghai – the magic city "Mo Du", Xian – the ancient capital of thousands of years, Guangzhou – a city with rich culinary culture, Harbin – the Pearl of the North China, Henan – the cradle of Chinese Civilisation, Tibet – the roof of the world, Lanzhou in Gansu – an important post on the ancient Silk Road, Yinchuan in Ningxia – "Jiangnan" in the north, Urumqi in Xinjiang – a traditional and open city, and the poetic Jiangsu which is full of the charm of water. Each of these destinations, from south to north, has its own character and is a halal- friendly destination! You are invited to visit the website of the China Cultural Centre in Kuala Lumpur to enjoy the beauty of summer, the best attractions, food recommendations, itineraries and practical information on each destination.
In addition, the organiser also holds "Popular China Summer Destinations" Voting Campaign at the same time. By leaving a message and voting for your favourite summer destination, you will stand a chance to win a great gift. The director of China Cultural Centre in Kuala Lumpur, Mr. Zhang Jiaxin said, "The centre hopes to bring useful information about summer travel in China to Malaysians through this campaign, so as to prepare for future travel plans. At the same time, some halal friendly tourism resources are promoted to encourage and welcome more Malaysian Muslims as well as non-Muslim friends to visit China. "
Voting for the campaign closes on September 5. For more information, please visit:
https://www.chinaculturalcentre.my/en/beautifulchina_summer/
Information

Deadline September 5, 2021

Enquiry:
[email protected]
Organiser:
China Cultural Centre in Kuala Lumpur
Official Partner::