"Water Charming Jiangsu Meet in Kuala Lumpur", Jiangsu Culture Week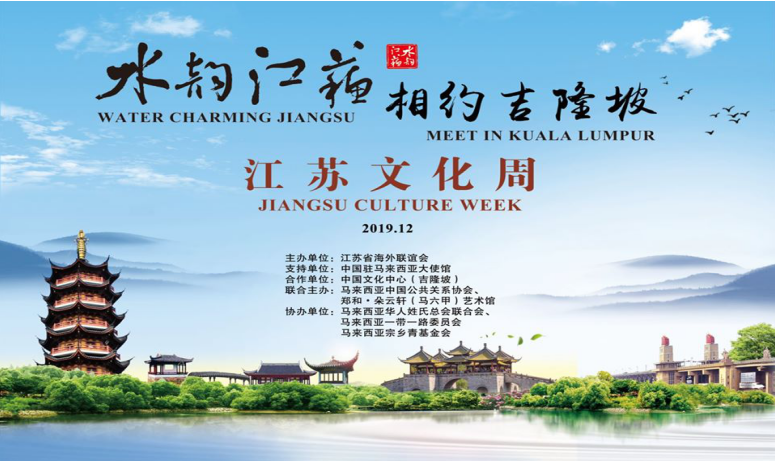 To celebrate of the 45th anniversary of the establishment of diplomatic relations between China and Malaysia, the "Water Charming Jiangsu· Meet in Kuala Lumpur" Jiangsu Culture Week series, organized by the Jiangsu Overseas Friendship Association was launched at the China Cultural Centre in Kuala Lumpur on December 18th.
This year's Jiangsu Culture Week would be held in Kuala Lumpur and Malacca respectively, rich with a variety of content including "water charming Jiangsu photography and picture exhibition", "Qinhuai lantern show", famous Jiangsu calligraphy and painting works exhibition, Jiangsu 2-city's (Yancheng and Nantong) "intangible cultural heritage exhibition," "Chinese medicine benefits overseas Chinese", "Chinese food prosperity". With the theme of "edge of water", "show of water", "victory of water" and "spirit of water", the photo exhibition showed the unique scenery and style of Jiangsu at four different levels. In addition, on the eve of the year of the Rat, the organizers also arranged the world famous "Qinhuai Colorful Lanterns Best Light the World" through its Qinhuai Lights exhibition. There were mouse lights, lion lights, lotus lights, rabbit lights and other types of lanterns. Yancheng and Nantong had brought a number of intangible cultural heritage items to the local people. The former consisted of Dongtai hair embroidery, Sheyang farmer painting, Dafeng porcelain carving, Dafeng straw painting and tiger shoes whereas the latter consisted of mahogany carving, blue calico fabric and board Harrier kite and other exhibits.
Li Guohua, vice president of Jiangsu Overseas Friendship Association, Zhang Zhen, cultural counsellor of the Chinese Embassy in Malaysia, Zhang Jjiexin, director of the China Cultural Centre in Kuala Lumpur, Dato' Sri Ang Lai Hee, president of The Federation Of Malaysian Chinese Surnames Associations, and other guests attended the opening ceremony.
In the afternoon, more than 30 people from the Malaysian military representatives and spouses' delegation of military attachés of embassies in Malaysia visited CCCKL. All visited each booth with great interest, fervently spoke to the inheritors of intangible cultural heritage, and profusely showered praise on Dafeng porcelain carvings and straw paintings. At the end of the event, all expressed their pleasure to have the China Cultural Centre in Kuala Lumpur as a platform to showcase Chinese culture in Malaysia and hoped to have the opportunity to participate in more diverse activities.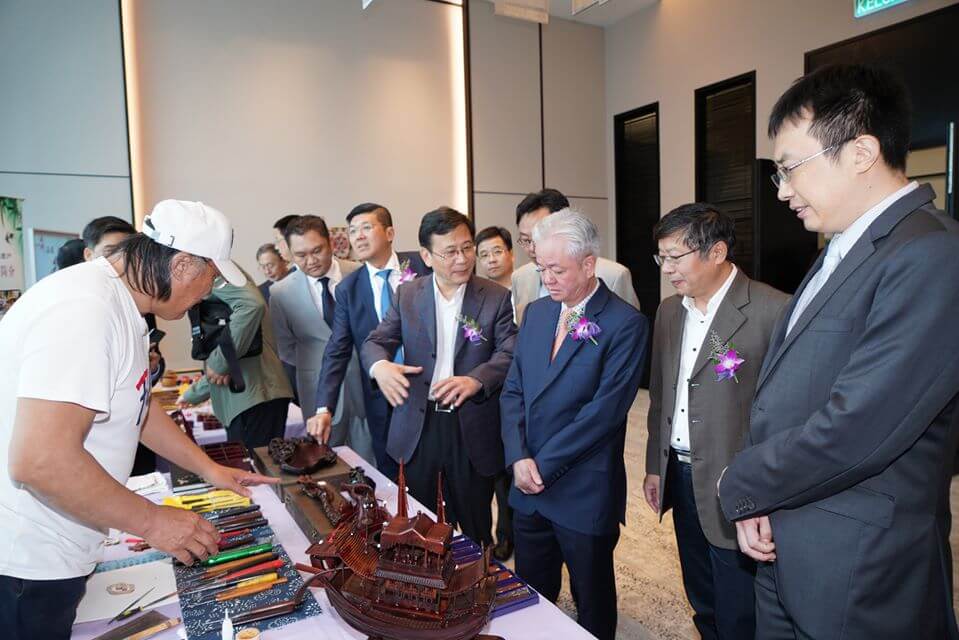 Organizer:
-Jiangsu Overseas Friendship Association
Supported by:
-Chinese Embassy in Malaysia
Collaborator:
-China Cultural Centre in Kuala Lumpur
Joint Organizers:
-Malaysia-China Public Relations Association
-Zheng He Duo Yun Xuan (Malacca) Art Gallery
Coordination Partners:
-The Federation Of Malaysian Chinese Surnames Associations
-Association of Belt and Road Malaysia
-Malaysian Clan Association Youth League Foundation