Seven Malaysian Chinese Writers Took Part In The Reading Feast, "The Author's Choice" With More Than A Million Views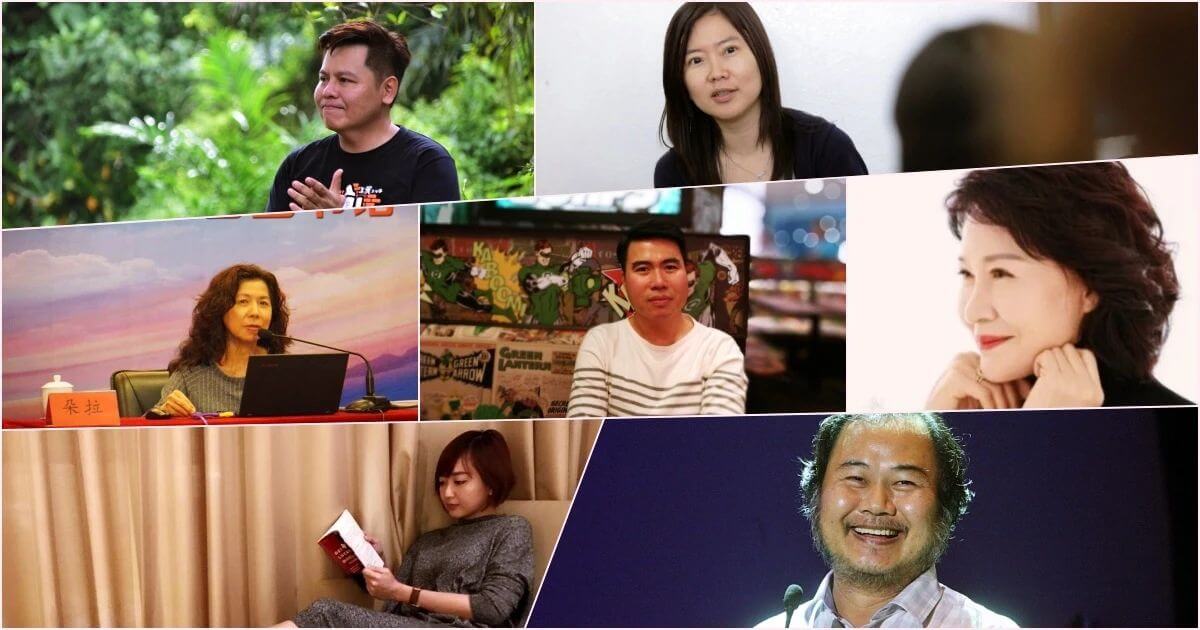 The reading interview dubbed as "The Author's Choice", jointly produced by China Culture Central in Kuala Lumpur (CCCKL) and "The Interview" invited seven Malaysian writers to introduce seven of their favorite Chinese writers and their works.
The content of seven episodes was broadcast through the network platform, with an average of 15 minutes per episode that allowed viewers to get to know these classics or popular literature and Chinese writers through images.
This was not only for the audience, for writers to talk about literature in the program, but also a quite novel way of creation. Literature and reading also furnish them a different facet, especially in this digital era. Through The Interview, the host Owen Yap shared contemporary literature with them. What else does it mean in this era?

Since "The Author's Choice" was broadcast on May 27, 2020, the program group received heaps of responses with some professing that the content of the program had popularized a lot of literature-hued knowledge for them. Others opined that it is difficult to fully present the original flavor of literary works in 15 minutes and by images. But they all agreed that such a storytelling program is rare and interesting happening in Malaysia.
"The Author's Choice" is a literary program decided upon by the two program supervisors after talking with each other. They are respectively the visiting editor-in-chief Tan Boon Kooi and Zhang Jiexin, director of China Cultural Centre.
Mr. Tan Boon Kooi is a person who rather loves reading much with a large collection of books, including classical works and popular literature. Coinciding with Director Zhang's desire to introduce both Malaysian Chinese and Mainland China literature, "The Author's Choice" then took shape.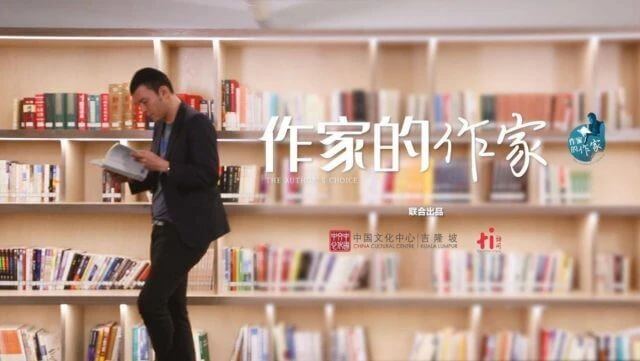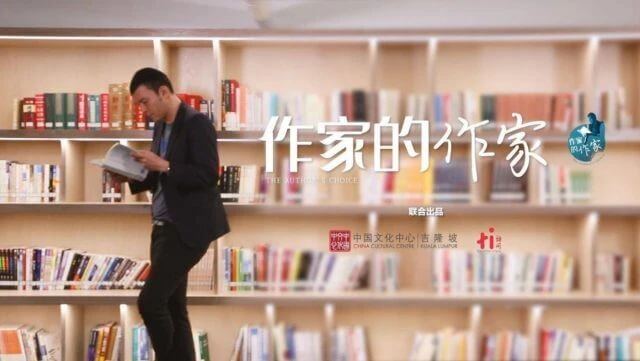 (Illustration) The reading program interview "The Author's Choice", jointly produced by "The Interview" and the China Cultural Centre in Kuala Lumpur, invited seven native Malaysian writers to introduce seven of their favorite Mainland Chinese writers and works.
(Picture: The Interview)
As a result, the production team found Owen Yap a veteran news anchor and hoped that he could play host to the program. Coincidentally, Owen Yap said that he also had always wanted to host a storytelling program. "In fact, as early as 2007, when I was interviewed by Roth Lai Zhongyuan (a veteran media person currently residing in Shanghai) in the supplement of Nanyang Business Daily, I mentioned that I wish most to host this kind of storytelling program. After 13 years, I finally got what I wanted."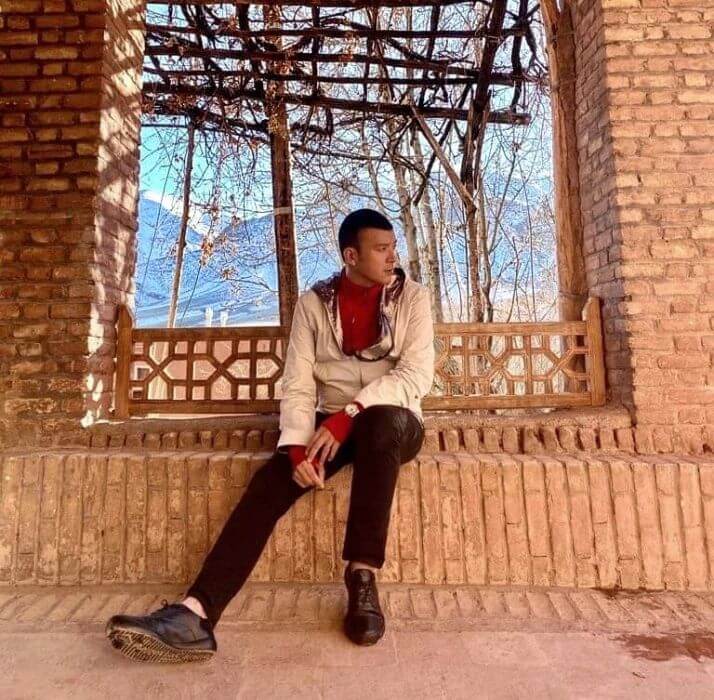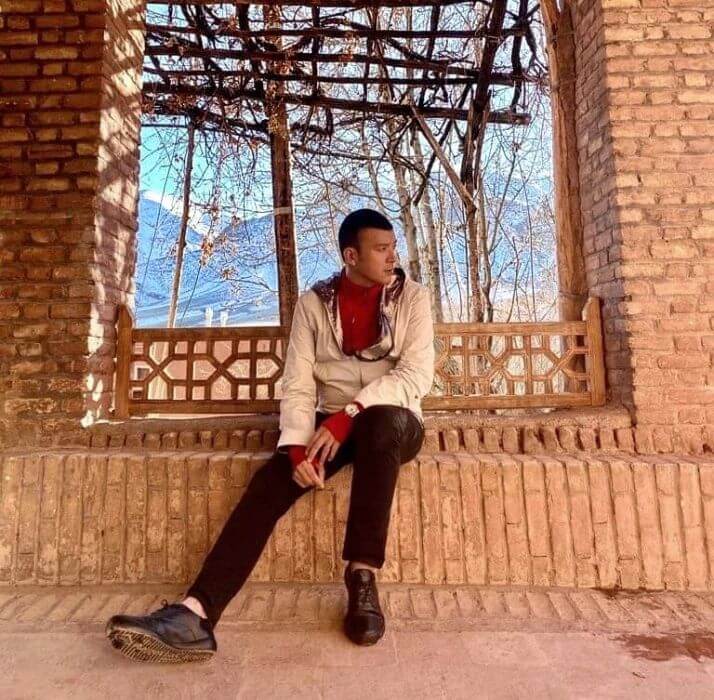 Owen Yap said that he wanted to do a storytelling program as early as 2007, and this time through cooperation with the "visit" and the Kuala Lumpur China Cultural Centre, he finally got his wish. (Photo source: Ye Jianfeng (Owen Yap) Facebook).
Owen Yap: The refreshing interweaving of film and television programs and their text elements.
"A musing goes: 'You must always record your life in some way, either in words or in images.' This is a trend. This program makes the text intertwined through the collage of audio-visual elements, providing a more colorful sense of painting and topic. But in terms of "association" and "thinking", words still have their advantages. After all, it is only with words that thinking has a carrier. "
In the process of current hosting, Owen Yap got to know once again these classics from different angles through the recommendation of different writers, and what he realized most was the joy of reading.
Ms. Dong Qing, a well-known Chinese host and producer of "Reader", once said: "I always believe that books I have read will not be read in vain. It will always help me perform better in the days to come. Reading can give people strength and imbue us with happiness.
"Witnessing a team right from preparation to coordination till presentation, the feeling of being deeply moved is a harvest whilst leaving behind a good work makes a greater harvest for me."
"The Author's Choice" is the product of all parties' coincidences.
Zhang Jiexin: The program received rapt review.
Director Zhang enthused that "The Author's Choice" was the product of coincidental collaboration between China Cultural Centre in Kuala Lumpur and The Interview. It had long been the idea for CCCKL to shoot an issue to introduce Malaysian Chinese literature and Mainland Chinese literature, and the best way to present the program was through interviews, which was exactly the forte of "The Interview".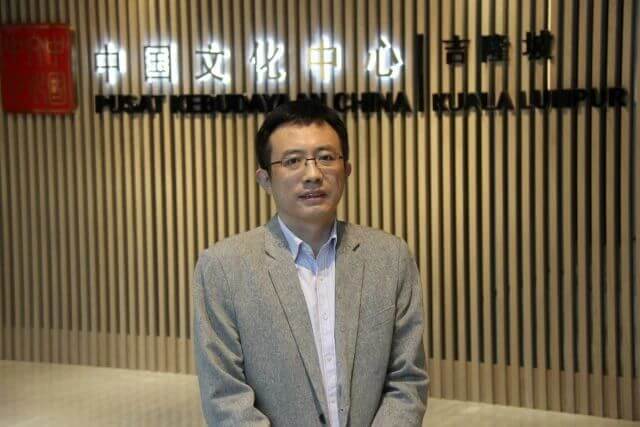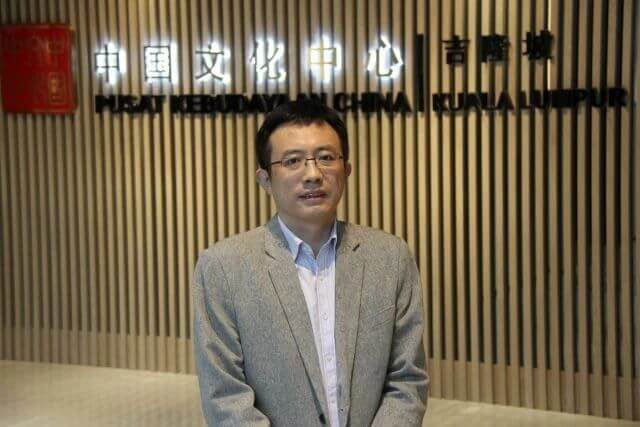 Director Zhang pointed out that the reason for having the combined introduction of Malaysian and Chinese literature also met one of the objectives of the China Cultural Centre.China Cultural Centre in Kuala Lumpur is an official culture and tourism organization under Chinese government that is based in Malaysia. China Cultural Centre is tasked to promote the image of China's tourism in Malaysia and Indonesia.

The function of the China Cultural Centre is to enhance culture, art and tourism exchange and cooperation by presenting to the Malaysian people a one-stop entity by means of cultural and tourism activities, language and arts teaching, information services, and etc.
"2020 is the first year of China Cultural Centre in Kuala Lumpur's official operation. In the future, CCCKL will strive to become a platform for the Malaysian public to understand China and Chinese culture, as well as a bridge for the people of China and Malaysia to enhance mutual understanding and communication. CCCKL will also join hands with the cultural and tourism institutions of both sides to strengthen bilateral cultural ties through exchanges and cooperation between China and Malaysia."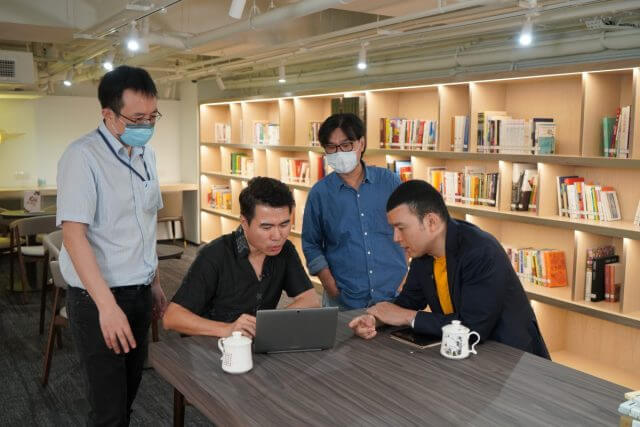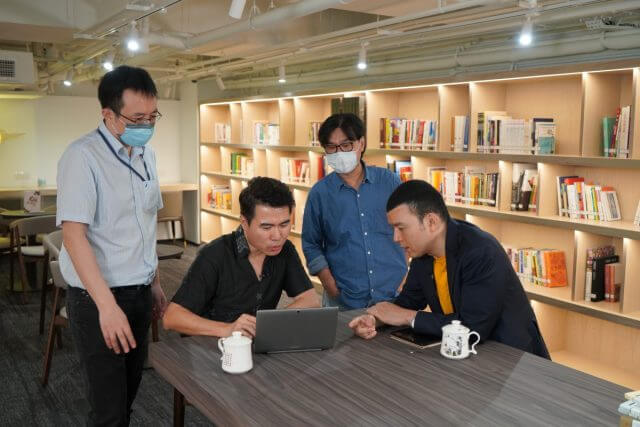 Zhang Jiexin, director of the China Cultural Centre in Kuala Lumpur (1st from left), discussed the program with visiting editor-in-chief Tan Boon Kooi (3rd from left), host Owen Yap (4th from left) and writer guest Looi Yoke Tho (2nd from left). (Photo Credit: Interview

)
"The Author's Choice" series was well received after it was broadcast, with an average of more than 100,000 views per episode, and the flow of the program was indeed an unexpected gain for the production team and guests. Director Zhang said that in this era of fast food, the program group had accorded much consideration on how to popularize literature without falling into the conventional stereotypes. "But Malaysian audience seems to pay more attention to reading than what people readily imagine."
Malaysian Chinese literature is unique in the Chinese literary world, and it is currently the most vital Chinese literature after Mainland China, Hong Kong, Macao and Taiwan. Over the years, the self-reliant writing attitude and spiritual pursuit of Malaysian Chinese writers is admirable.
"The Author's Choice" invited seven Malaysian and Mainland Chinese writers as interview guests, who have different occupations and identities, including professional writers and more multiple identities, which is the biggest difference from the group of Chinese writers.
"The writers involved in the program span several generations, China and Malaysia, and the two sides of the Strait. The works introduced include modern and contemporary novels, martial arts novels, poems, as well as literary and current affairs commentary collections, etc…, which is a dialogue across time, space and cultural context with special significance."
This time, "The Author's Choice" put the concept of literature into the framework of film and television, which was a quite novel creative mode for writers and had the effect of helping to popularize literature.
They all had their own observations on literature and reading in the digital era. Let's take a look at each writer and talk about their feelings after their interviews.
Tai Hsiao Hua: A person's reading history is actually the history of his/her spiritual development.
In the first episode of the program, Tai Hsiao Hua, vice president of the World Federation of Chinese Literature, was invited to be interviewed by Owen Yap. The writer she chose to introduce was the well-known Jin Yong, but interestingly, what she wanted to recommend was not Jin Yong's martial arts novels, but his prose.
"We can say that Jin Yong's martial arts novels are really wonderful, and his reputation for writing martial arts novels is so great that we can easily ignore Jin Yong's prose creation."
Tai Hsiao Hua shared this in the program. She reckoned that in addition to the swords and swords in his pervasive martial arts novels, Jin Yong actually has a rich understanding of different artistic mediums such as piano, chess, calligraphy and painting, traditional culture, movies, dramas, and so on. Through reading Jin Yong's prose, it enabled her to know the other side of Jin Yong.
You can revisit: "The Author's Choice" Tai Hsiao Hua👇
"There is no doubt that reading is very important. We should start to develop the habit of reading from an early age. We often muse, 'Reading makes a person graceful'*. After voluminous reading, the most important thing is to nourish our hearts and souls. I believe that if a person reads too many books, the change in his/her aura/temperament will ensue. Of course, the most important thing is that what kind of books we read will help us become what kind of people we are.
"Reading can imperceptibly influence people's values, outlook on life and worldviews. In fact, a person's reading history is the history of his spiritual development. Our character, temperament and conduct will be imperceptibly influenced by the types of books we read."
But in this digital era, Tai Hsiao Hua observed that the traditional reading mode had been gradually replaced by current social media articles. Notwithstanding the fact that information is fast and timely, it would cause people to lose patience in reading.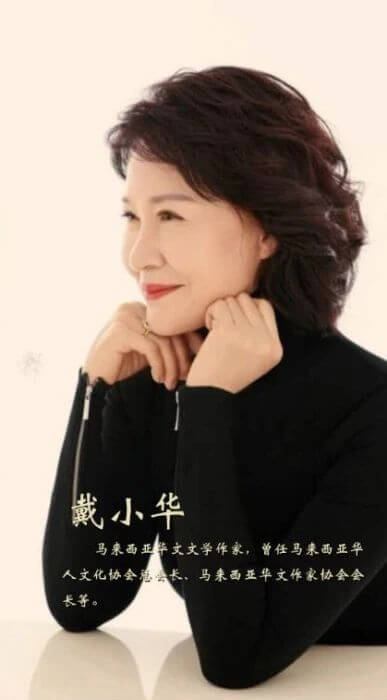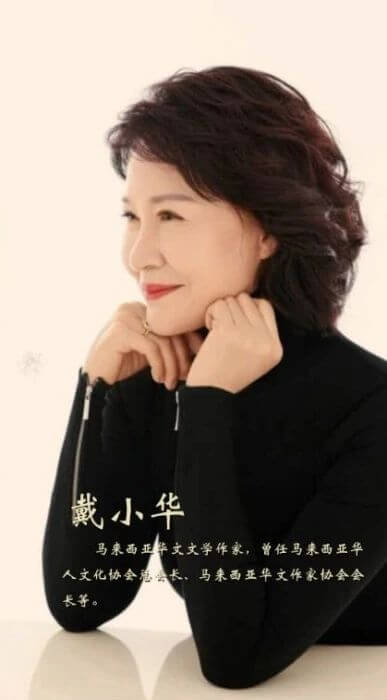 Tai Hsiao Hua, vice president of the World Federation of Chinese Literature. (Photo credit: The interviewee)
Reading is not just about getting information, the function of literature lies in its spiritual facet.
"Nowadays, people read Weibo, Facebook, Twitter and all kinds of social media articles which has almost transformed our traditional reading habits. This is a kind of fast food, casual and even fragmented 'light or shallow reading'. This has become a new trend in reading. Although this method is very quick and timely, it can also give us a kind of inertia in thinking and affect our ability to think and judge. In addition, this fast-paced way of life will also make people more impetuous. It is also difficult to calm down to think and have the patience to explore some philosophical propositions. "
Tai Hsiao Hua mentioned the mentality of utilitarianism in reading, which is also an issue often discussed by everyone. What is the use of literature? But in her view, the role of literature is beyond the secular level. It is a model for us to turn to the heart. In the past, this may seem incredible to everyone. But with the coming of natural and man-made disasters in 2020, Tai Hsiao Hua reckoned that this is a good opportunity for us to reflect on and recalibrate our way of life.
"The pandemic has changed our way of life, making us to confront more unknown about the future. But it also makes us all slow our pace and calm down, so that we know better how to cherish and let go, and rethink our lives. I feel even the way books are introduced has changed during this period of time. In the past, they were all done face-to-face, but now they adopt the way of "cloud reading". Through the Internet, I think this is a very novel model."
Reading is a laid-back waste.Leong Ching Foon: Literature makes people sit still.
Leong Ching Foon is an award-winning Malaysian writer. In her opinion, reading is a very comfortable way to waste time."To my eyes, reading has many functions. The so-called function includes allowing you to do something for no reason. Sometimes reading means that I am not wasting my time, and sometimes it makes me accept my 'wasted time' happily. Reading is to live comfortably easygoing."
You can revisit: "The Author's Choice" Leong Ching Foon👇
In the program,Leong Ching Foon chose to talk about the Hong Kong writer Xi Xi. Through the work "My City", Jingfen shared the unique artistic techniques used by Xi Xi in her articles, with a dynamic childlike innocence. Ching Foon shared in the program that this is the most commendable thing about the writer Xi Xi: "The innocence of an 8-yo child is different from that of another 80-yo man. Among the four words of rejuvenation idiom where an elderly re-ages to return as a child, I think the most important word is 'return'.
"Filming is a new thing for me, the post-production work of the interview, in particular to see how the film editors help straighten out the content, how to enhance their strengths and circumvent their weaknesses. I must thank you as I feel the difference in profession makes one feel worlds apart.
However in terms of the gains in the process, frankly speaking, I didn't get much. On the contrary, I felt guilty and perturbed for several nights because I was worried about making Xi Xi too happy, too superficial, and worried that she would be misunderstood. Even though I know the truth that it is imperative to make one's choice and reap its benefits irrespective of one's encounter with many beautiful things in life, the thought of missing the forest for the trees is also very excruciating."
"Literature makes people sit still. Life is in distress, the situation is changing rapidly, and the act of chasing after is the most exhausting. But literature, like history, allows us to distance ourselves from the object of observation, keep calm and understand that things have multiple aspects and multiple perspectives of interpretation and hence the need to be more tolerant. Literature allows us to catch our battered breath amid strong torrents without the loss of our footing."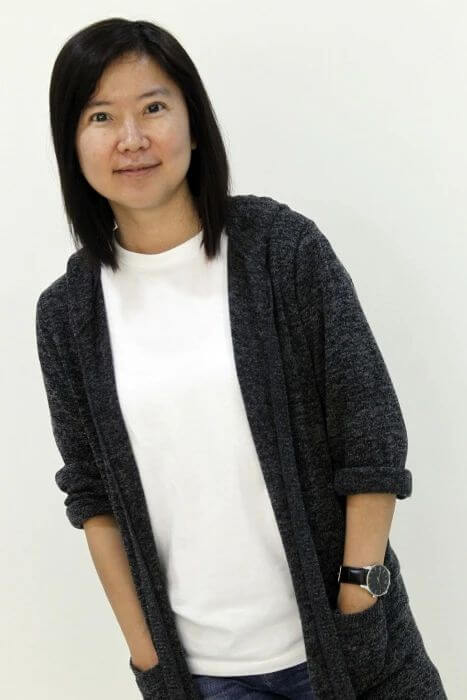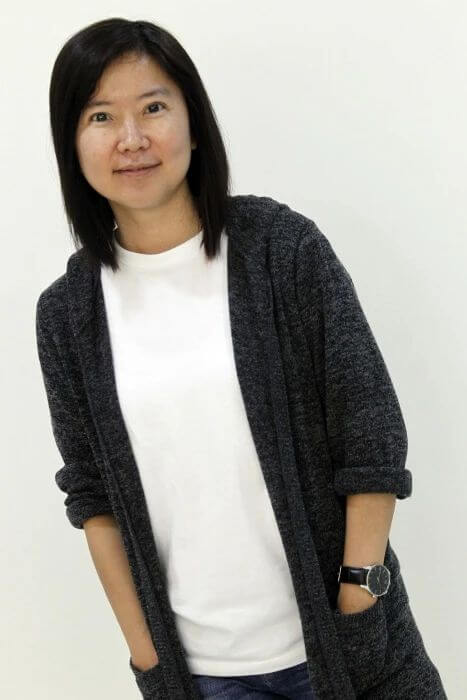 As the editor-in-chief of Malaysia's two most important sections of Chinese literary submissions,Leong Ching Foon is also a multiple award-winning Malaysian writer. (Photo credit: Interviewee).
"Literature is not necessarily related to the carrier. To me, literature is the attitude towards life. Literature is about all kinds of possibilities. In the event of finding difficulty to describe, it mostly boils down to the literary factor." For Ching Foon, literature can have all kinds of possibilities, and conveying words through film and television allows outsiders of literature to have the opportunity to participate and enjoy it together.
"The use of film and television to present words with the hope of luring passers-by in the image world and entering the world of the original writing. I had once fallen into Xiao Hong's world of writing on Xu Anhua's "Golden Age". "
Looi Yoke Tho: Literature is not necessarily just a book. When the poetic realm is ubiquitous, everything does mean something.
For the poet Looi Yoke Tho, speaking of poetry in the way of image is also a special way of presentation.
"The presentation of words in film and television will enhance the sense of painting which will be more impressive than simple words. Incidentally, some poems when being read aloud will convey better the feelings of the author."
You can revisit: "The Author's Choice" Looi Yoke Tho👇
Participation in this shooting was quite some fresh experience for Yoke Tho. For many years he had been engaged in the technology industry, Yoke Tho said that it was his first experience in this shooting process with the guidance of the director in the process. Repeated shootings were done In order to ensure better presentation effects through the lens. But with good pressure at hand, the final outcome had him felt its worth.
The choice of Looi Yoke Tho was Gu Cheng, a Chinese poet. The mentioning of Gu Cheng might make one recall that he had penned that "the dark night gives us black eyes, but we use them to seek light". It also made us remember his tragic ending of life eventually. In the program Yoke Tho shared Gu Cheng's life with his poems, which had been imbued with some very reverse effects.
"You can see his innocence and simplicity in fairy tales. But the real world is not only laced with loneliness, but also sad feelings."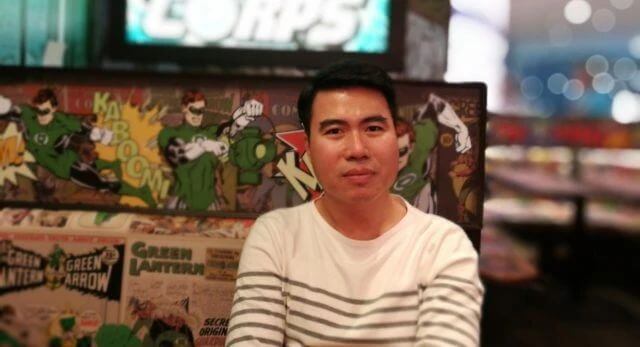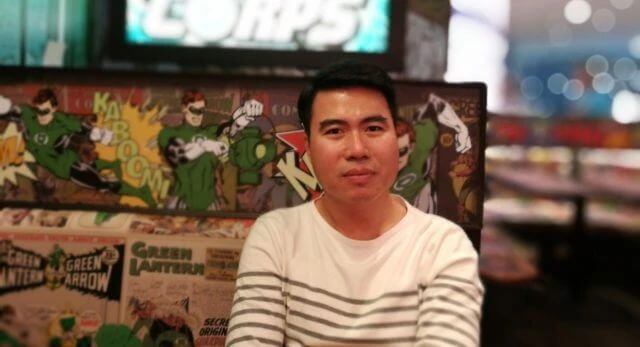 Malaysian Chinese writer Ma Looi Yoke Tho is engaged in science and technology industry but also a poet at the same time.

(Photo credit: Interviewee)
When asked whether poetry must exist in books, Yoke Tho said: "Literature especially poetry doesn't necessarily depend on books, it can be hidden in advertising text, movie dialogues, pop music, even in an abstract painting and collection of photographs. This is what we call poetry."
To him, the carrier of literature does not necessarily be in the concrete form of books.
"Writers should go along with times as sheep skins and tortoise shells are carriers of literature even before the birth of paper books. Therefore, literature is the carrier of life."
Media people must read more; Tan Chia Yong reminds on the need to be vigilant of the prospect of becoming a mere media person peddling air
As a veteran media man and news anchor who has for long needed input and output information, Tan Chia Yong has an alternative view. To him, literature may not only be just about paper, but it must be paper first.
"I feel that literature must be supported by paper as a carrier. Then it can be presented in more ways by different carriers. I reckon that the literature I hope for and expect is in the form of words first and then through images like movies, sounds such as broadcast or recitation, etc…"
You can revisit – "The Author's Choice" Tan Chia Yong👇
Mr. Tan Chia Yong chose to talk about Hong Kong commentary author Leung Man Tao in his program. Ten years ago he was lucky to have invited Leung Man Tao as a guest host for radio station in Malaysia. He said that within a week only he received rave reviews from the audiences. "All say that when listening to his words, the thing most done is sheer nodding our heads." This is because Leung Man Tao always talks about many insightful ideas and discover fundamental matter of things. From Chia Yong's viewpoint, most people do not seem to possess such abilities.
As media personnel, they must have such observation ability, when compared with ordinary people. Tan Chia Yong opined: "We often say that a media person by right is an information communicator or someone who disseminates information. If we do not have inputs but only blindly emanate outputs, then it's just a matter of time that we will become a spent force."
If you still care nothing about being empty, you're just hawking air without any benefits as a media person."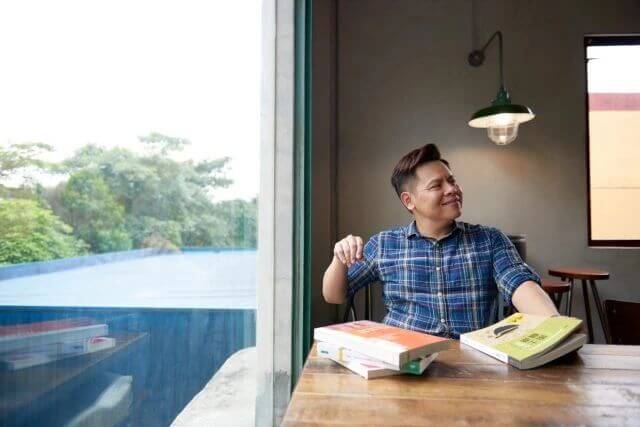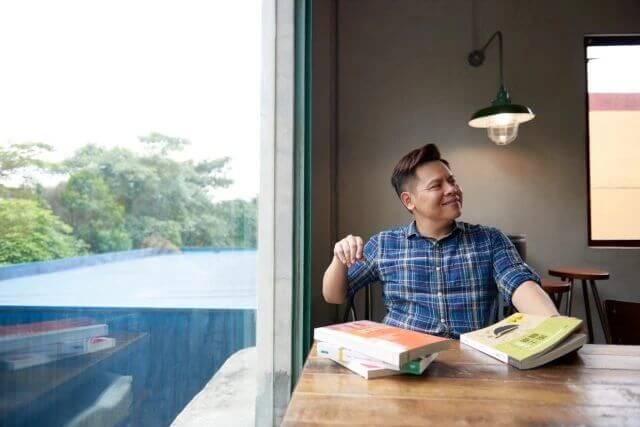 Tan Chia Yong, a veteran media personnel in news broadcast reckoned that media communicator must read timely in order to have content that can be disseminated.(Photo credit: Interviewee)
During this pandemic outbreak, Tan Chia Yong felt that people were turning to literature when facing the unknown, searching for answers from within or finding some emotional displacement outlet or exit.
"I think we always seem like taking cues from the ancient people or writers who like writing heaps of lasting meaningful words with the hope of being closer to them. I feel that under this lax situation of misaligned thinking and fear of the unknown in future, everyone will feel disconcerted (or become overwrought with confusion) and hard to hold on to the situation. Therefore, I reckon through these books it becomes a consolation. What they experience can allow us to map out problems facing us at different times and spaces. Perhaps we can find some way out, support, or even the answers."
Duo La: If I hadn't read, I wouldn't have been a writer.
For Duo La, a Malaysian writer, reading is one of the conditions for her to become a writer. "Yu Hua said: 'I would rather sacrifice some writing time to read more.' I'm too. Most of my aesthetic appreciation comes from reading. A writer with a dull life is faced with higher difficulties in material selection and performance when creating. It's not my fault for not being rich and colorful. But if I want to be a writer, I have to find other ways, and indirect experience is one of them.
"Reading can enhance the depth and breadth of life and social understanding. Of course, writers not only need to read and have rich life experience, but they also need social insight, thinking about incidents, a deep understanding of human nature and so on. However, if I haven't read, I wouldn't have become a writer. Reading enriches my soul. A writer should be a perpetual reader. "
Duo La shared three works of Chinese writer Pan Xiangli on the program, including two collections of essays, "Appreciating Poems without Differentiation", "The Narrative of Tea" and the novel "Andrographis Paniculata".
"As modern people we live in such a hurry till we are anxious and impetuous every day. A lot of wisdom is ignored or falls into deep slumber. I feel that Pan Xiangli's works have an awakening/rejuvenating effect. "
You can revisit:"The Author's Choice" Duo La👇
The introduction of film and television to literature is quite ideal, but paperbacks (books) are still Duo La's first choice.
Duo La regarded the current use of film and television in introducing literature as some way rather ideal on promoting books. By this way, it could reach the public, but she also reminded that real reading should go back to "book reading" itself.
"Paperbacks are still my first choice to this day. When I moved house on nine occasions before this, I had to lose a lot of books each time. The picture of my tears facing the books that I couldn't bring along was still in my mind. My commitment is towards paperbacks and I will stick to it at all times.
Apart from the content of the book, each paperback is a work of art in terms of its cover and inner page design, typesetting, paper, binding, printing, font, etc. E-books have a variety of advantages, but the feeling of a paperback is completely different. It is better not to make comparison as it is a matter of personal habits and preferences."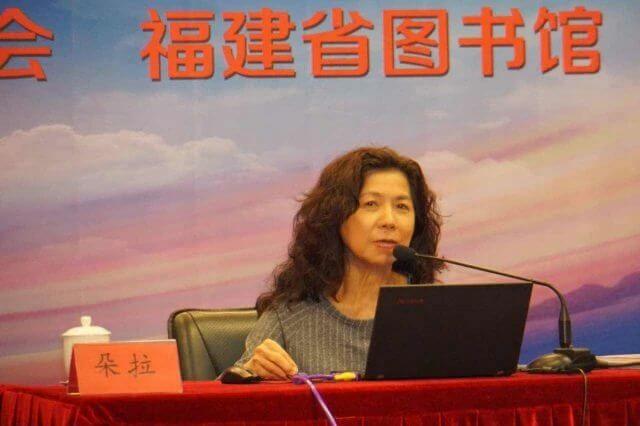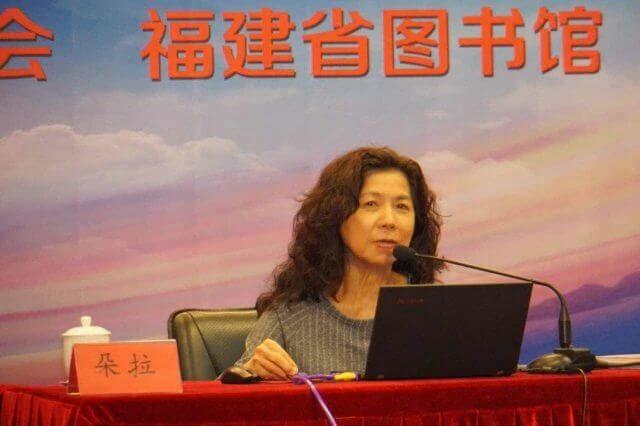 Malaysian Chinese writer Duo La believes that the use of film and television to introduce literature is an ideal way of dissemination. The most important thing, however is to go back to reading. (Photo Credit: Interviewee)
Times are changing and so is the literature. Fang Lu: To maintain diligence in reading gives one the advantage in creation
"In the past, literature tends to serve the public and provide a voice for social issues. Now, literature is skewed more to individuals, belongs to the niche. But its power can establish a common aesthetics and deal with the coexistence of joys and sorrows. It may be said that currently people who embrace literature can easily be distinguished from the teeming millions who are dependent on the information explosion." Writing over the years, Malaysian writer Fang Lu had also experienced various forms of literary evolution. However, it is a challenge for every writer in the digitalised era.
"Reading in the fast-moving scientific, technological and electronic era has undergone big changes. It is no longer just simple reading, but the emergence of browsing, irreverent reading, contact reading, and even compliment reading situations."
"To writers, this is an era that has never been encountered. In the face of changes in the reader, the writers must still uphold the deep reading, wide reading and meditation to maintain the "mechanics of diligent reading". This serves to maintain the edge of their own creations possible."
To Fang Lu, the so-called "diligent reading mechanics" is the important secret for reading lengthy literary works such as Mo Yan's 200,000-word novel, "Red Sorghum Family". If I do not have the ability to sustain and insist to read on, there is no way to delve into the thought nucleus of the work.
You can revisit:"The Author's Choice" Fang Lu👇
Fang Lu shared Nobel Prize winner Mo Yan's work on his program. He began reading Mo Yan since 1989 until he won his award and even thereafter. To him, it is not that important whether Mo Yan had won any prizes. What he expected more is that Mo Yan would subsequently author new voluminous works.
"The production of "The Author's Choice" via interview is an example to depict filming can also provide good literary effects. The use of film and television effects can drive readers closer to writers, their words and stories."
Fang Lu said that this recording program gave him a feeling unlike before because in the past he was used to work alone as writing and reading were static in nature. In accepting this recording invitation, he felt that such finished product was the work of a whole team.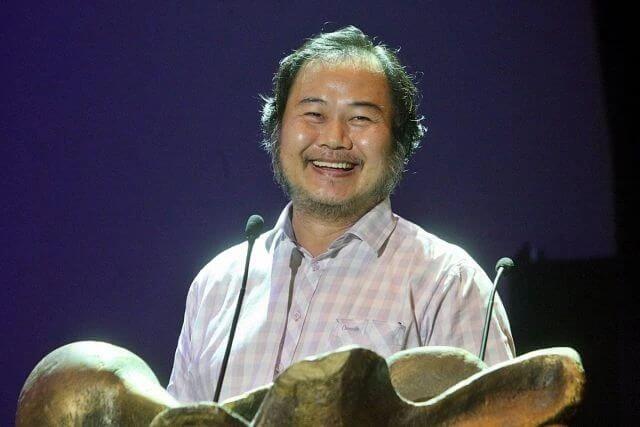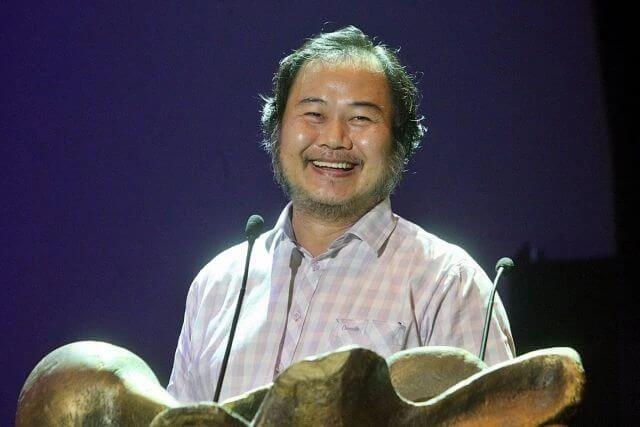 Lu said that he wanted to read a writer's novels continuously and persistently as he reckoned only then he could delve into the core thoughts of the works. (Photo credit: Interviewee)
Multi-faceted artist Lee Xin Yi reads Mao Jian — Lee Xin Yi : The Lack of Spirit of Thinking and Distinguishing in Modern Society.
"The Author's Choice" series had come to its last episode by inviting Malaysian artist Lee Xin Yi as its guest. She remarked that this kind of program was rather interesting. "After all, it's Malaysia's first production of the kind," said XinYi.
The writer chosen by Li Xinyi in her program was the works by Chinese writer Mao Jian. In her view, Mao Jian writings were both refined and worldly. In particular, she could use her own way to carry out a new second creation on Mao Jian's film reviews, from black movies to idol dramas.
You can revisit:"The Author's Choice" Lee Xin Yi👇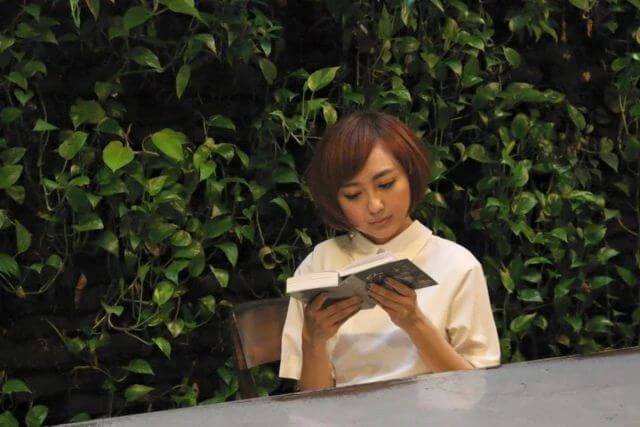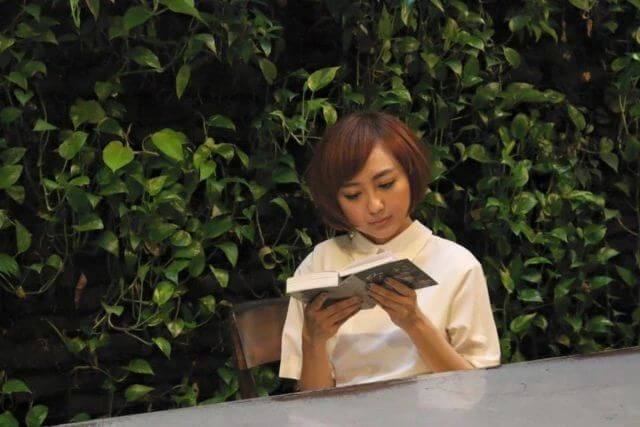 Malaysian artist Lee Xin Yi had been working on television since college. Over the years, she had published 8 books. With different experiences in her growing up, she could better appreciate Mao Jian's farewell narrative to youth in "An Inch of Ash". (Photo Credit: Interviewee

)
"Teacher Mao Jian actually had written a lot of movies that I can't reach at all in my time. Nonetheless her words can also make me feel hard to be detached. I would think that going to see that movie again from her perspective is akin to having the movie re-shooting the movie."
Lee Xin Yi , who had been working on television since college days, had multiple identities, from being a host to a radio DJ, from an actor to a singer, and got to enrich herself through reading from time to time. When asked what role literature has in this era, Li Xinyi said that the value of literature lies primarily as a stimulation and reflection of human thinking.
"Particularly in modern society, amid the lack of the spirit of thinking our society needs more social media, healthy thought collision and building."
Xin Yi said that in her younger days, she wanted to partake classical works whenever she read as if non-classical pieces were not worth reading at all. But with maturation, she realized that reading itself is not just to allow us to directly obtain information, but also a process of thinking. She continued to grow along the road of reading and writing with inputs and outputs as the ongoing process.
Literature has never had the super ability to change the world, but literature is always there when the world changes.
Summing up the above interviews, literature and reading itself have a new identity in this fast new era. In modern society, especially in this era when the atmosphere of reading is on the low side, literature is still required to transform the world. It is not impossible, but a little asking that is too demanding.
But even if we are in an era with a low reading rate, literature has never been forsaken by times because it is one of the conduits for us to enter the spiritual world or confront our inner being. Similar to other worldly arts such as classical music, dance, art paintings, etc…, they will not disappear even if they just form a minority.
Owing to the fact that art is the pursuit of the soul as human beings are the only creatures in the world that can pursue the realm of soul. As long as people exist, literature, music, dance and art will exist too.
Source: "The Interview"