"Spring Time in China" Photo & Story Contest Winners Announcement!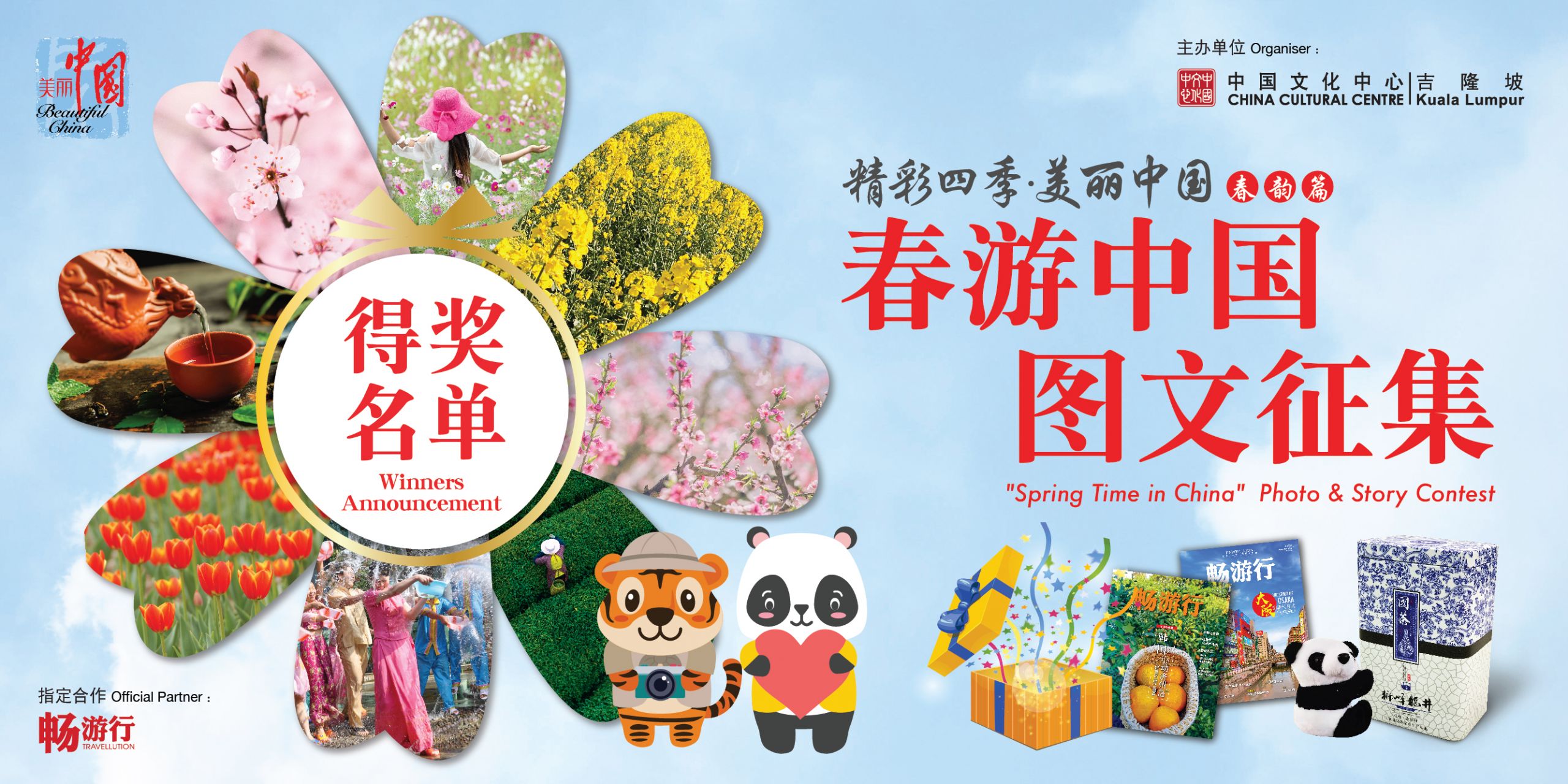 The results for "Spring Time in China" Photo & Story Contest organised by China Cultural Centre in Kuala Lumpur have been released. 10 winners who were chosen will receive great prizes.
The organiser revealed that hundreds of entries were received for the contest, covering a number of popular tourist hotspots in China such as Beijing, Shanghai, Chongqing, Yunnan, Hunan, Tibet and Shaanxi, showcasing the natural sceneries, historical monuments, cultural landscapes and special cuisines of these places.
After the preliminary selection, 15 finalists entered the final round, and an online judging meeting was held on May 10. It was honoured to invite the Director of China Cultural Centre in Kuala Lumpur, Mr. Zhang Jiexin, the chairman of Malaysian Chinese Tourism Association, Dato Albert Tan Sam Soon, and the General Manager of Travellution media, Mr. Paul Chin as judges. 5 selected winners would receive a tin of famous tea–Hangzhou Shifeng Longjing tea, and a limited edition souvenir from China Cultural Centre in Kuala Lumpur, while the other 5 shortlisted candidates will receive 6 issues of Travellution magazine.
Mr. Zhang Jiexin commented, "The participants are very good at writing, and there were individuals whose use of the power of words surpassed the appeal of the photos!" While Mr. Paul Chin said, "To judge the entries from a photographer's perspective, I am pleased to see that many of the places in China are well photographed by participants."
In addition, Dato Albert Tan Sam Soon said that the event was very meaningful as it allowed people to recall the unforgettable experience of travelling with their families and friends during the epidemic and to relive the good times of travelling. He said that China is an important tourist destination and source market for Malaysia and the Malaysian Chinese Tourism Association will be organising an international travel fair in November.
The China Cultural Centre in Kuala Lumpur is organising a year-long cultural and tourism promotion campaign called "Fascinating Seasons of Beautiful China" from April 2021 to February 2022 in Malaysia. Series of activities is thematic around spring, summer, autumn, and winter, with each season featuring a different style of promotional videos, illustrations and interactive programmes to share and promote quality Chinese cultural and tourism products and information to the local public. The first event "Spring Time in China" Photo & Story Contest has been successfully completed and the summer event will be launched soon. Please visit the official website of the China Cultural Centre in Kuala Lumpur (https://www.chinaculturalcentre.my) or CCCKL's Facebook (@chinaculturalcentreKL) to learn more.
More event details: https://www.chinaculturalcentre.my/en/beautifulchina/
Event post:https://www.facebook.com/chinaculturalcentreKL/posts/2637687166528778
Award-winning works: https://www.chinaculturalcentre.my/cn-beautifulchina_spring/