Lantern Fair on the Lantern Festival in Celebration of the Chinese New Year at Millennium-old Yangliuqing Town

Situated in Xiqing District, Tianjin City, Yangliuqing Town is an important ancient town and transport hub along the Beijing-Hangzhou Grand Canal. With a long history and profound cultural heritages, Yangliuqing Town, a famous historic town in northern China, boasts a variety of folk arts and abundant cultural landscape, natural landscapes and resources, where leisure tourism develops by leaps and bounds.
On the Lantern Festival every year, which is a traditional festival of the Chinese New Year, a large-scale lantern fair is grandly held in Yangliuqing Town. Arranged in dozens of groups, more than 1,000 large festive and colored lanterns appear on the streets, adding luster to the jubilant atmosphere on festive occasions.
The biggest feature of Lantern Fair lies in the content elements of The Yangliuqing New Year Woodblock Print. The Yangliuqing New Year Woodblock Print is included in the first batch of national-level intangible cultural heritages in China. With a time-honored history of more than 400 years, The Yangliuqing New Year Woodblock Print is reputed as "No.1 Chinese New Year Wood-block Painting".
Variety show is concurrently held during the annual lantern fair. Demonstrating plentiful repertoire contents and superb performance techniques, the variety show integrates traditional charm and fashion elements in one. Through variety shows, people learn about folk customs, understand the inheritance, enjoy the happiness, and also express good wishes for the Chinese New Year.
Over the past 26 years, Lantern Fair has not only become a new custom of Yangliuqing Town on the Chinese New Year, but also one of the most eye-catching sights of Tianjin City in winter.

New Year's Eve Light Show of Tianjin Drum Tower Lights up Tianjin City in Winter
Tianjin Drum Tower dates back to around AD 1493 (during the reign of the Hongzhi Emperor of the Ming Dynasty), where a large bell is hanging inside. The bell was initially used to tell the time and rang a total of 108 times a day. In 1952, Tianjin Drum Tower was demolished to pave the way for road construction. Its reconstruction project began in 2000, which was completed on September 28, 2001.
The bell of Tianjin Drum Tower marks it as one of the cultural symbols and historical witnesses of Tianjin City. As it rang in the morning and at night, on New Year's Eve, the bell rings again, accompanied by a light show brimming with high-tech holographic technology. In this way, the wishes and blessings of Tianjin people are sincerely expressed.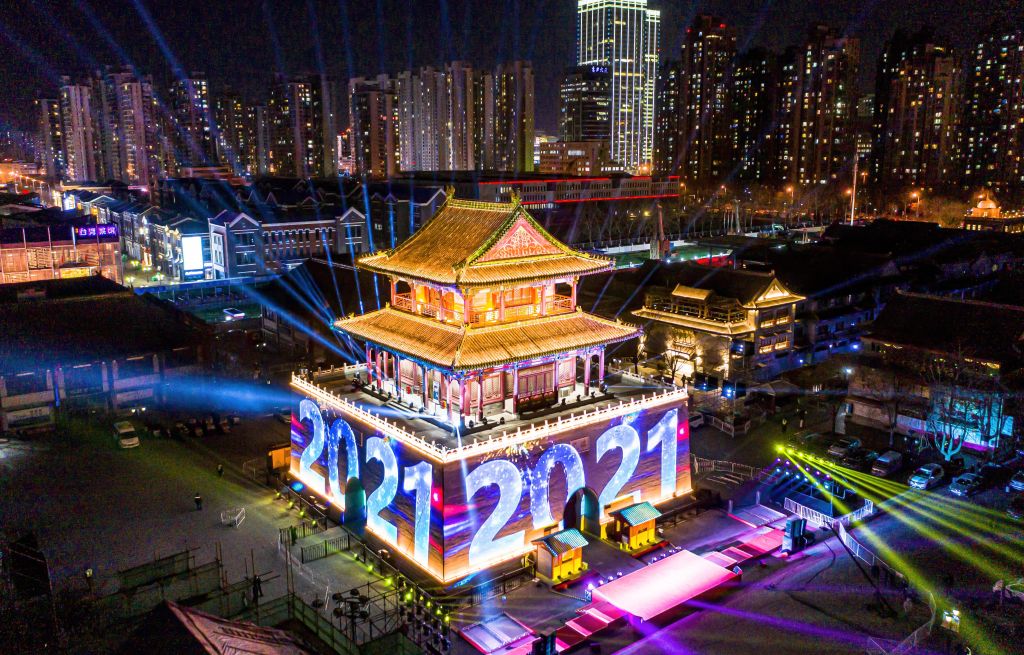 Themed with "Tianjin Voice of Drum Tower", New Year's Eve Light Show makes the best of dazzling new technologies to unfold a kaleidoscopic view for Tianjin, a city under perfect blend of Chinese and Western features. The New Year's Eve Light Show is not only a high-quality celebration ceremony with wonderful audio-visual experience, but also crystalizes the quintessence and charm of Tianjin's culture and tourism.
City walls on the east, south and north sides of Tianjin Drum Tower are ingeniously used as the curtains for the New Year's Eve Light Show. Holographic equipment is used to project 3D images onto city walls of Tianjin Drum Tower. City style, Tianjin foods and snacks, intangible cultural heritage, diverse art…Numerous stories of Tianjin Drum Tower through the ages are vividly told from the Light Show. With the fantastic changes in lighting around the tower body, a dazzling visual feast is offered for the audiences, who are deeply impressed by the on-site effect.